What's New?
Check out what is currently going on with Fontbonne University's Mission Integration Department!
Our Sisters, Our Heritage
Our Sisters, Our Heritage is an amazing opportunity for our community to get to know each other a little better. Every month, we have one Sister of St. Joseph of Carondelet come and chat with us over lunch about her life before and as a CSJ.
November 16, 2017
Come meet Gladys "Laly" Leigh, CSJ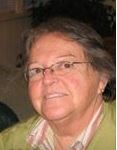 Fontbonne University Class of 1966
Sister "Laly" has spent much time working with the poor and oppressed in Peru. When she moved to St. Louis 20 years ago, she worked as a doula and a massage therapist. Now she's transitioning into a new phase of her life as "Grandma Laly," a volunteer grandmother figure for The Covering House, a new St. Louis-based organization that provides refuge and healing for girls who have become victims of sex trafficking.  She's taught herself how to bake cookies and decorate cakes and has talked to other grandmothers to learn what they like to do with their grandchildren. "I want to spoil them, in the good sense," she said.