The official site for the Inauguration of J. Michael Pressimone, Ed.D., 14th President of Fontbonne University
New President Offers Inspired Vision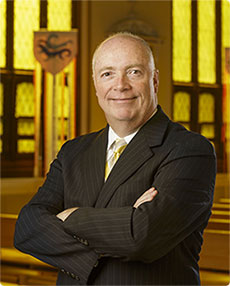 On Friday, Nov. 14, 2014, Dr. J. Michael Pressimone officially took the reins as Fontbonne University's 14th president. In his inauguration address, Dr. Pressimone unveiled his exciting and compelling vision for the future.
"In order to accomplish much and meet our goals, we must be bold. We must go forward with confidence in the quality of our programs and with a clear understanding of the Fontbonne brand. We make a difference in our world, and we see proof in the work of our faculty and the accomplishments of our students who beautifully animate exactly what 'Learn more. Be more.®' means."
Read Dr. Pressimone's full inauguration address to learn what inspires our new president and where he sees the university as it closes in on its 100th anniversary in 2023.