J. Michael Pressimone, Ed.D.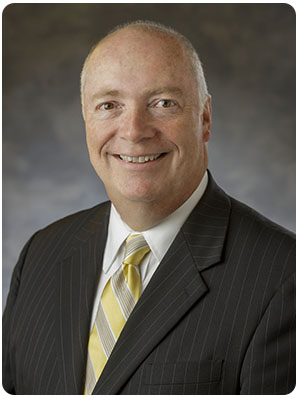 Michael (Mike) Pressimone, Ed.D., was selected president of Fontbonne University on Feb. 1, 2014, and assumed office on July 1, 2014. He is the university's 14th president.
Dr. Pressimone holds an Associate of Arts degree from Catonsville Community College (now known as the Community College of Baltimore County), a Bachelor of Fine Arts from the Catholic University of America, a Master of Arts in Leadership in Higher Education from Regis University, and a doctorate in Higher Education and Organizational Change from Benedictine University in Lisle, Ill.
Prior to coming to Fontbonne, Dr. Pressimone's higher education career spanned more than three decades. Immediately before taking office, he served as vice president of advancement at Alvernia University in Reading, Pa., where he oversaw fundraising and alumni activities. He was responsible for the design, implementation and completion of a $27 million campaign, the largest in Alvernia's history, which concluded in October 2013, having raised over $31.6 million. Before his position at Alvernia, Dr. Pressimone served as vice president for institutional advancement at Belmont Abbey College in Belmont, NC, and Elizabethtown College in Elizabethtown, Pa. He has been active in professional organizations and was a founding member and officer of the Susquehanna Valley (Pa.) Planned Giving Council.
Dr. Pressimone has served on a number of nonprofit boards including the North American Center for Marianist Studies (Dayton, Ohio), Berks Youth Chorus (Reading, Pa.), the Development Advisory Board of the Missionary Sisters of the Most Sacred Heart of Jesus (Reading, Pa.) and the Berks County Chapter of the American Red Cross, as well as many other organizations in the communities where he has lived.
He has become an active member of the St. Louis community.  He currently serves on the United Way of Greater St. Louis Board, the St. Louis Regional Chamber of Commerce, the Chaminade College Prep Board, the Academic Affairs Committee of Incarnate Word Academy, and the St. Joseph's Academy Board of Directors. He has been an active voice in issues of diversity and racial justice and he currently serves on the advisory board for Chronicle::Ferguson.
He and his wife Cathy are members of Our Lady of Lourdes Parish where Cathy also serves as Pastoral Associate. Their parish activities include sacramental instruction, Eucharistic ministry, RCIA, and marriage mentoring and mentor training. Mike is also very involved in music ministry as a cantor and guitarist. He and Cathy have been married for 35 years and are blessed with 12 children and four grandchildren.
​Dr. Pressimone enjoys time with family, woodworking/home projects, running, golf, music and acting.
Save
Archived President's Messages
June 7, 2018

Dr. Pressimone on the Champions of St. Louis Podcast

March 23, 2016

Finding Easter Eggs

I know that some of you attended the Fontbonne Alumni Easter Egg Hunt on Sunday, March 13. What a great event. We had 250 people sign up, including young alumni with their families, older alumni and their grandchildren, faculty and staff with their children, and a few others. We owe a special note of thanks to Kate Flatley, Director of Alumni Relations, and other members of the Advancement team for their great work. We got to see Sr. Linda Markway, CSJ, lead the children in Easter Bunny singing and dancing!

Due to the iffy weather that day, the event was held in the DSAC, and there were hundreds, if not thousands, of eggs strewn about the facility. After Sr. Linda sang and danced, the children were released to gather as many eggs as possible. It was amazing how quickly McKinney Court was cleared of the fun-filled, plastic eggs. The children were filled with hope and joy as they went about their work.

Are we not called to be a people of hope as these children are? I write this during Holy Week. For those of us from the Catholic and Christian traditions, this is the most solemn time of the year. During this week, which ends with the Easter Triduum (the evening of Holy Thursday through Easter Sunday evening), we seek to prepare ourselves through prayer, reflection and penance. Our hope lies in the resurrection of Jesus which broke the chains of death and made it possible for us to enter the Kingdom of Heaven when our earthly life is over.

At the reading of the Passion at Mass on Sunday, we hear in Luke 23 of the two men condemned with Jesus. One asks for Jesus to use his Godly power to save them and the other rebukes him in humility admitting that both were condemned for crimes they had committed and that Jesus had done nothing to deserve his punishment. He then says "Jesus, remember me when you come into your kingdom." Jesus replies "Amen, I say to you, today you will be with me in Paradise." That is the source of my hope. When I am at my weakest point, filled with the stark realization of my human faults and failings, I know that God loves me.

During this time, I join my thoughts and prayers with my Christian sisters and brothers and those of other faith traditions. I am thankful for the many blessings bestowed on me and my family. I am thankful for this campus community and all of my colleagues. I am thankful for the students who fill me with the hope that they can and will make the world a better place. I wish you all peace.

Dec. 14, 2015

Holiday Reflection

A Few Thoughts for the Holidays

I have to admit to a level of distraction during the last few weeks as we have rapidly approached the end of this semester.  Part of it is due to my hectic travel schedule.  This fall I dedicated about one week each month to trips away from St. Louis, including visits in Baltimore, Philadelphia, New Jersey, Wisconsin, Chicago, San Diego, San Francisco and, most recently, Los Angeles.  I happened to be there during the week of the San Bernardino shootings and had dinner the evening before that horrifying event with an alumna and her family who reside in Redlands, California.

Since then, the harsh rhetoric aimed by some at our Muslim brothers and sisters has gotten more heated and hateful.  You may remember I addressed this earlier in the semester in the wake of some political commentary.  The flames of this rhetoric have been fanned even more by Jerry Falwell, Jr., President of the Evangelical Christian and conservative Liberty University.  He urged his students to arm themselves so they could "end those Muslims before they walked in."  Eboo Patel of the Interfaith Youth Core penned a commentary which appeared in the December 11 issue of the morning online edition of the Chronicle of Higher Education, urging institutions of higher education to embrace their position as a site for religious, cultural, and ethnic discourse in order to disarm assumptions, stereotypes, and phobias about Muslims.  I encourage you to read it.

It is perhaps most important to acknowledge and reflect on the conflicting attitudes that are pervading Christian and national rhetoric during this holy season of Advent – my favorite time of the Church year.  Over two thousand years ago, the world awaited a Messiah.  There were those who believed that the Messiah would come as a warrior to vanquish the enemies of the faithful.  That was not to be the case.  Jesus arrived on that Christmas day in the humblest of circumstance to a poor man and woman.  His greatest weapon was His ability to love unconditionally and to reach into our very hearts to show us the way to the Father. He extended his messages of peace, grace, and belonging to those of other beliefs and backgrounds as He crossed barriers that were ingrained in society in order to reach the leper, the Samaritan, the prostitute, the tax collector, the wealthy young man.  In each case He challenged the individual to reconsider their life's direction and showed them a better way.  He did not use weapons or threaten violence.  The Jesus I believe in taught us to "turn the other cheek" and "love your enemies, and pray for those who persecute you" (Matthew 5: 39 and 44).  Jesus' message was one of peace and love and a calling to live a life that would ultimately lead us to eternal life heaven.

I share that common bond with my many friends in Muslim, Jewish, Protestant and other faith communities:  the God in whom we all believe calls us to live lives of holiness so that we might someday enjoy life in heaven.  Those of my friends who hold no religious beliefs still express a conviction that peace is better than conflict and that we, as humanity, should look for ways to cross boundaries and better understand one another to build a more peaceful existence for all. For Christians, this is a season of preparation for and celebration of the birth of Christ. Let us extend that spirit by recognizing Christ and the peace, love and unity He embodies in everyone.

My prayer for all of you this season is that you find in your hearts a feeling of peace and that Fontbonne remains a place where that peace is palpable.  Cathy, the children and I wish you all Happy Holidays, Merry Christmas and a Happy New Year!

Oct. 9, 2015

Fontbonne President Featured in St. Louis American

Why Black Lives Matter

My wife Cathy and I could easily be classified as upper middle-class, middle-aged, white Americans. I serve as president of Fontbonne University in St. Louis, and Cathy is pastoral associate at Our Lady of Lourdes Roman Catholic Parish.

We have seven biological children, ranging in age from 20 to 32. We have an adopted daughter from Ecuador who joined our family as she was entering young adulthood. We have four African-American children who were adopted in 2011 and now range in age from 6 to 10. We also have an African-American son-in-law.

Cathy, the youngest four children, and I moved to St. Louis in July 2014, just before the Michael Brown Jr. death in nearby Ferguson, Missouri.

Not too long ago, our 9-year-old son David asked why we did not have a "Black Lives Matter" sign in our yard. A valid question, to be sure.

Several weeks later, with the help of a colleague at Fontbonne, we had secured a sign, which we put on display in our front yard. We happen to live in the university president's home on Wydown Boulevard in the affluent Clayton suburb of St. Louis.

On June 30, one of my young adult and white daughters was sitting on the front porch when a middle-aged white gentleman came walking by. He gestured to the sign and said to my daughter, "They never have and they never will."

She sat flummoxed and unable to respond as the stranger proceeded on his way.

Later that evening, my wife, two of our young adult white daughters, and I were sitting on the porch when another middle-aged white gentleman came running by. He stopped, looked up at us on the porch, and asked, "Don't all lives matter?"

We responded surely, all lives matter, but at this time in our history, given what is happening in our country, and given the racial make-up of our family, that special attention needed to be paid to the plight of black Americans, especially black young men who seem to be targeted by law enforcement.

He responded that he recently attended his son's graduation from Washington University in St. Louis, and he seemed to be put off by the fact that Ken Burns, the commencement speaker, drew a standing ovation when he invoked "Black Lives Matter."

We went back and forth with him a little, and he ended with something like, "I hope middle-aged white male lives matter as well."

I have to admit that my emotions ranged from outraged to really ticked off to contemplative as I sought to understand what had happened. The exchange has led me to pen this reflection. Black lives matter now more than ever!

Consider the recent violence allegedly carried out by Dylann Roof in Charleston, South Carolina against a group of people gathered to pray and study sacred scriptures. Roof appears to be a young man radicalized via the internet by a culture of hate focused on those whose only difference is the color of their skin.

Unlike other immigrants to the United States, our black brothers and sisters were enslaved for several hundred years. Lest we forget, they were granted basic civil rights less than 50 years ago. There are descendants of families remaining who fought to uphold the institution of slavery which was abolished during the Lincoln administration still alive today.

Black lives matter.

As the president of a University, I feel compelled to educate our students, our faculty and our community to leave this history of hatred and intolerance behind. As a president of a Catholic University, I feel compelled to challenge each of us to see all of humanity as created in the image and likeness of a loving God.

So, to my middle-aged white neighbor who asked, "Don't all lives matter?" the answer is this. Yes, all lives matter, but until we put behind us a violent, oppressive history which demeans black men and women in this country, we must pay special attention to the lives of our black brothers and sisters now and in the generations to come.

Sept. 24, 2015

President Reflects on the Value of a Diverse Campus and Society

Dear Students, Faculty and Staff,

Given the sometimes harsh and acrimonious rhetoric and statements made by a few of the contenders for the Presidency of the United States and those who attended their campaign gatherings over the last few weeks, I feel compelled to issue this statement in support of our entire student population and in particular our Muslim students. I do not intend to endorse or criticize any of the candidates. Each voter must make her or his decision. However, some of the comments (or lack of comment in some cases) might make our Muslim students feel uncomfortable or unwelcome. This should not be the case at Fontbonne University — you are welcome here and we benefit greatly from your presence on our campus.

Like so many immigrants before them, Muslim people have come to the United States to seek a new life free from oppression and full of opportunity. Our students come to take advantage of wonderful educational opportunities. I have very good friends who came to the U.S. for these very purposes and who have made wonderful contributions to their communities. Some are now proud citizens of the U.S. who contribute to the economy and public good. They remain faithful Muslims. There are, too, American Muslims whose families have lived in the U.S. for generations. I have had numerous opportunities to worship with Muslims during their holy days and I have developed an appreciation for and an understanding of their faith tradition. If we make an effort to learn more about each other, we will no longer fear each other.

We have also heard some make the untrue and unfair statement that all Muslims are terrorists. This is an absurd generalization. Are we to believe therefore that no Christian could be a terrorist? There is ample evidence of terrorist acts carried out by extremists who profess to be Christian right here in the U.S. One candidate has made a statement that 'a Muslim could never be President of the United States.' Our Constitution clearly allows any citizen born in the U.S., no matter her or his religious beliefs, to hold that high office. While all of us, including our governmental leaders, are rightly influenced by our own personal faith, those in governmental service must be able to follow their oath of office and the rule of law to serve the common good of all people.

So, to our Muslim students and friends, know that you are welcome here. We appreciate the wonderful cultural diversity you bring to our campus. And to all of our students, faculty and staff of many faiths, know that this campus is meant to be a safe place where we can share beliefs without fear of repercussion. Our campus community must be a model of peace and respect for our community, our country and our world.

July 1, 2014

A New Journey Begins

This day marks an exciting time for me and my family, personally, and I hope for the Fontbonne community as a whole. I have already found the University family to be warm, welcoming and ready to serve with me to build a bright future.

The work that lies ahead is challenging to be sure. The value and expense of a college degree is coming under great scrutiny by critics of higher education. To be fair, some of the criticism is deserved, but there is also ample evidence that a college degree adds value to our lives in so many ways.

A Fontbonne degree, richly infused with the charism of the Sisters of St. Joseph of Carondelet, stands apart. Our students have the opportunity to grow, discover and explore in an environment that both nurtures and challenges. Our charge is to be attentive to the quality of our programs and the student development experience. We owe it to our students and their families to deliver the best possible education in return for their investment of time and resources. We are well positioned to do so with faculty who both care for our students and who continue to innovate and keep curriculum relevant and current. We have staff tirelessly dedicated to our students' success and helping them reach their full potential. We have support from alumni, the Sisters, our board, donors and others. At this time, we are all called to reach higher.

For my part, I have much listening to do. I want to hear from our many constituents about opportunities for success and areas of challenge. I want to encourage innovative thinking that leads to market opportunities in new and existing programs. I want to seek investors who can fund continued growth. I want to reverse enrollment trends and create a strong financial base. I want to give our talented faculty the resources they need to be the engines of growth and innovation.

Cathy and I and our children have been blessed in many ways. We are confident that many more blessings await us as our journey takes us to Fontbonne and the St. Louis community. I am humbled to serve as Fontbonne's 14th president, but I am also filled with confidence about the future. This University will celebrate its centennial in 2023. Together, we will build a strong and vibrant Fontbonne positioned for a second century of education and service rooted in rich Catholic and CSJ traditions.