Autism Spectrum Disorder Concentration
The Autism Spectrum Disorder (ASD) concentration for the Master's in Education program (which includes the ASD certificate) will not be accepting new students during Fall 2017 and Spring 2018 semesters due to program revision. New information about the ASD concentration and certificate will be posted on the Fontbonne website in Fall of 2018.
The Centers for Disease Control (CDC) currently estimates that 1 in 68 school-aged children have autism. To meet the needs of this continually growing population, Fontbonne University offers the Master of Arts in Education with a concentration in autism spectrum disorder.
Concentration Highlights
Program total: 32 credit hours (degree and concentration)
Comprehensive, collaborative program
Educators and professionals from a variety of backgrounds will learn to effectively work with and educate children on the spectrum and their families.
Format: evening or evening/online combination
Educator's Discount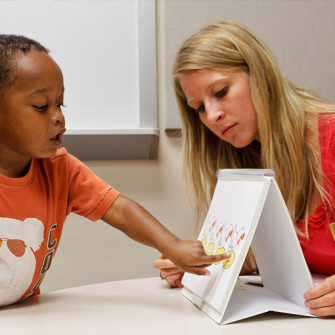 In appreciation of the services offered to our community by educators at all levels, Fontbonne University offers a 15 percent discount to qualified individuals enrolled in graduate coursework.
Qualified educators include those who work at least half-time in a nursery school, a pre-K through 12 school system or post-secondary institution.
A discount application form is available from the Fontbonne admission representative or program director with whom you are working. The form must be completed each semester or enrollment term to receive the discount.
Save
Save
Save
Specialty Course Requirements
CTE 507

Studies in Autism Spectrum Disorder (ASD)

3 hours

This course is an overview of the nature of autism spectrum disorder (ASD) from infancy through adulthood including diverse manifestations of the condition from mild to severe. Historical roots, definitions, current research, and policy supports will be addressed. Critical issues impacting individuals with ASD such as social deficits, communication disorders, sensory processing and behavioral differences are also explored. Theoretical frameworks and evidence-based practices that support the learning and development of individuals with ASD will be presented. Ten (10) hours of field experience are required. This course is a prerequisite for all CTE courses; however it can be taken
concurrently with one other CTE course. Background Check Required.

CTE 508

ASD: Communication and Social Competence

3 hours

This course addresses language development and
communication strategies focusing on characteristics of
individuals with Autism Spectrum Disorders (ASD).
Issues unique to the population will be addressed, such as
pragmatics and other communication deficits,
augmentative and alternative communication systems, and
social deficits. Use of case studies will be a method for
integrating areas of study. Prerequisite: CTE507.

CTE 509

ASD: Behavioral Supports

3 hours

This course includes theories and methods that support
individuals with Autism Spectrum Disorders (ASD) to
develop productive behavior control, self-regulation, and
to function appropriately in groups. It includes an
overview of behavior management theories and practices
as they relate to clients with Autism Spectrum Disorder.
This includes the principles of applied behavior analysis,
principles of the social-cognitive approach, and Positive
Behavior Supports. A focus will be on the behavioral
management process beginning with functional
assessment through implementation of behavior
interventions. Evidenced-based practices that support the
learning and integration of these interventions into
practice will be studied. Case studies and examples of
interventions will demonstrate use across subgroups.
Interventions will be considered as they relate to
diversity, levels of need, and age span. Prerequisite:
CTE507.

CTE 510

ASD: Assessment and Evaluation

3 hours

This course explores types of assessments used for
screening and diagnosis of Autism Spectrum Disorders
(ASD). Domains of cognitive, communication, and
behavior are addressed along with other developmental
areas such as sensory, oral, motor and play. A focus will
be on utilizing diagnostic criteria and discerning
information from evaluation reports. Importance of
diversity will be included with consideration given to
subtypes of ASD and cultural and ethnic variables.
Prerequisite: CTE507.

CTE 511

ASD: Teaching and Learning Strategies

3 hours

This course focuses upon evidence-based strategies that
support individualized learning needs of individuals with
autism spectrum disorders (ASD). Comprehensive and
integrated approaches are explored along with specific
strategies that are included within various models. The
ways in which assessments contribute to designing and
monitoring programs of instruction most suitable to the
individual with ASD are addressed as well as progress
monitoring and maintenance of meaningful data that
apply to social/ communication, and academic growth.
Prerequisite: CTE507.