Diverse Learners Concentration
The diverse learners concentration in the Master of Arts in Education tackles critical challenges of teaching in the 21st century. This program prepares teachers to identify and address the opportunities and challenges of a diverse student population and supports teachers in the development of knowledge, dispositions and practices to best serve their students' varied needs and talents.
Concentration Highlights
Program total: 32 credit hours (degree and concentration)
Develop the ability to create an inclusive environment for classroom populations that might include diversity in areas such as:

Ethnicity
Culture
Religion
Economic advantage and disadvantages
Learning challenges and disabilities
Second-language learners

Format: evening or evening/online combination
Educator's Discount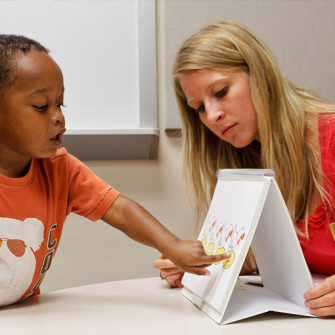 In appreciation of the services offered to our community by educators at all levels, Fontbonne University offers a 15 percent discount to qualified individuals enrolled in graduate coursework.
Qualified educators include those who work at least half-time in a nursery school, a pre-K through 12 school system or post-secondary institution.
A discount application form is available from the Fontbonne admission representative or program director with whom you are working. The form must be completed each semester or enrollment term to receive the discount.
Specialty Course Requirements
EDU 528

Differentiated Instruction

3 hours

This course examines components of differentiated and
brain-compatible instruction. Using best practice models,
participants review, evaluate, and apply methodologies
which lead to curriculum development, lesson/unit
planning, effective integration of technology, and other
elements which support brain-compatible and
differentiated instruction. Ways of aligning appropriate
assessment methods and making data-driven decisions are
addressed. Students reflect upon ways in which time,
resources, and energy can be focused to strengthen
differentiated instruction, ensuring that all students have
access to the curriculum and to meaningful learning.

EDU 529

Enhancing Student Achievement through Positive Behavioral Supports

3 credits

This course focuses upon positive school climate and productive behavior of diverse students in inclusive, educational settings. A major component of this course is the study of research-validated practices that support classroom management and school-wide management procedures. A framework of effective behavior supports is applied that maximizes achievement and socialization for school-wide, classroom, and individualized programs. Emphasis is placed upon the teacher's role in developing and sustaining student motivation, self-regulation, and resiliency. Importance of collaboration with colleagues, administration, family, and community will also be addressed.

EDU 530

Understanding the Diverse Learner

3 hours

This course focuses on the impact of culture upon student
achievement, the cognitive styles of diverse learners and
the context of the predominant school culture in which
they find themselves. Theories that address the academic
achievement gap and the over-identification of diverse
learners for special services are discussed. Research on
the importance of the teacher-student relationship as it
affects achievement is also examined.

EDU 551

Literature-Based Reading for Diverse Learners

3 hours

An exploration of quality, authentic books for young
people from pre-kindergarten through the middle school
years. Participants will explore a range of literature for
young people and develop ways to adapt literature to the
numerous cultures and customs found among students in
school settings.