Special Education Concentration
DID YOU KNOW? Fontbonne University produces more K-12 cross categorical special education teachers than any other college or university in the state of Missouri.
Fontbonne University has a strong tradition of excellence in special education. Teachers committed to enhancing the learning of students with special needs will find opportunities to expand their own knowledge, skills and proficiency through courses, applied practices and research. Students in this program will also find topics of particular interest in their own practice through action research projects and directed readings. In an age where general education classrooms are becoming increasingly diverse, the Master of Arts in Education with a concentration in special education will give the graduate candidates the tools necessary to meet the needs of students identified with specific learning difficulties.
Concentration Highlights
Program total: 32 credit hours (degree and concentration)
Highly experienced/credentialed special education faculty/staff
16-week courses
Format: evening or evening/online combination
Educator's Discount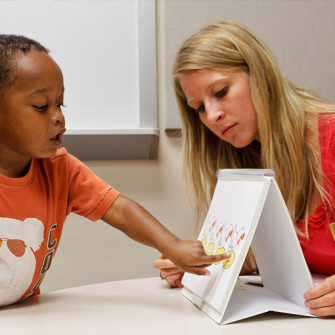 In appreciation of the services offered to our community by educators at all levels, Fontbonne University offers a 15 percent discount to qualified individuals enrolled in graduate coursework.
Qualified educators include those who work at least half-time in a nursery school, a pre-K through 12 school system or post-secondary institution.
A discount application form is available from the Fontbonne admission representative or program director with whom you are working. The form must be completed each semester or enrollment term to receive the discount.
Specialty Course Requirements (minimum 12 hours)
EDU 505

Introduction and Methods of Teaching Cross-Categorical Disabilities

4 hours

This course provides a basic understanding of the nature
of disabilities to include learning disabilities, behavior
disorder, intellectual disabilities and physical impairment
and other health impairments. Similarities and
differences of disability conditions will be addressed
along with implications of working with various
disabilities in cross-categorical settings. In addition, this
course provides procedures and strategies for teaching
students with cross-categorical disabilities.

EDU 520

Transition/Career Education for Students with Disabilities

3 credits

This course assists teachers in understanding the tasks necessary to allow for a smooth transition of students with disabilities from the K-12 educational environment to the
world of work or post-secondary vocational or academic education. Emphasis will be placed upon the collaboration of educators with other agencies that can assist in this
effort.

EDU 528

Differentiated Instruction

3 hours

This course examines components of differentiated and
brain-compatible instruction. Using best practice models,
participants review, evaluate, and apply methodologies
which lead to curriculum development, lesson/unit
planning, effective integration of technology, and other
elements which support brain-compatible and
differentiated instruction. Ways of aligning appropriate
assessment methods and making data-driven decisions are
addressed. Students reflect upon ways in which time,
resources, and energy can be focused to strengthen
differentiated instruction, ensuring that all students have
access to the curriculum and to meaningful learning.

EDU 529

Enhancing Student Achievement through Positive Behavioral Supports

3 credits

This course focuses upon positive school climate and productive behavior of diverse students in inclusive, educational settings. A major component of this course is the study of research-validated practices that support classroom management and school-wide management procedures. A framework of effective behavior supports is applied that maximizes achievement and socialization for school-wide, classroom, and individualized programs. Emphasis is placed upon the teacher's role in developing and sustaining student motivation, self-regulation, and resiliency. Importance of collaboration with colleagues, administration, family, and community will also be addressed.

EDU 530

Understanding the Diverse Learner

3 hours

This course focuses on the impact of culture upon student
achievement, the cognitive styles of diverse learners and
the context of the predominant school culture in which
they find themselves. Theories that address the academic
achievement gap and the over-identification of diverse
learners for special services are discussed. Research on
the importance of the teacher-student relationship as it
affects achievement is also examined.

CDS 566

Language and Literacy in Learners "At Risk"

3 credits

This course is intended for graduate students in speech-language pathology, reading education, and special education. It will explore practical methods of assessment, supportive strategy development, and curricular adaptations for children who are "at risk" for learning difficulties in receptive and expressive language, reading, and written expression.

EDU 586

Studies in Disability and Exceptionality

This course is based on extensive study in areas of
disability and society, disability and the media, and the
civil rights quest of people with disabilities. Students will
attend speaker forums of experts in disabilities, will be
involved in meetings of a conference or organized
advocacy group, and prepare their own presentations on
appropriate topics to gain multiple perspectives of
ability/disability and an understanding of exceptionality
and disability culture.

EDU 587

Directed Readings in Education andDisability

1-3 credits

This independent study is for students who wish to pursue a special area of study within  the area of education and disability. The course will be offered pending availability of an  instructor. Students are limited to one directed readings course during their graduate  program of study.

EDU 592

Assessment of Ability andAchievement

3 hours

Study of tests and measurements with emphasis on technical qualities, standardized and  classroom test construction, cognitive and affective assessment, legal and ethical issues. Includes analysis and practical experience with diagnostic contemporary instruments. Prerequisite: EDU 200.

EDU 595

Counseling Techniques

3 hours

This course is designed to assist practitioners in working
with exceptional students along with their parents and
families. The effects of exceptionality upon individual
and family dynamics are emphasized. Students are
introduced to counseling techniques and a variety of
professional communication skills.

EDU 596

Counseling and Collaborating with Diverse Populations

3 credits

This course focuses on the educational professional's ability to become an effective counselor, collaborator, and consultant in support of students whose differences may impact their social and/or academic performances. The participant develops understanding of the unique nature of children and the families and increases one's repertoire of communication skills to support productive interactions. Models of collaboration and consultation are studied as they support effective communications with diverse populations. Areas of diversity emphasized are those of students and families with disabilities, those with language, ethnic and cultural differences, and those of low socio-economic status.

EDU 535

Technology Integration for Students with Special Needs

3 credits

This course emphasizes development of teaching techniques, lessons, and curriculum, along with developing appropriate Individualized Education Programs (IEP's) for students with moderate and multiple disabilities. Assistive technology and instructional technology are explored and applied. Students integrate technology and incorporate multiple methods of assessment into thematic units that they produce. Ethical implications of technology and effects on diverse populations are explored and discussed.