Art
At Fontbonne University, we're just as passionate about art as you are.
Professors here are all working, professional artists, and even as a first-year student in our art program, you'll begin taking art classes immediately. Faculty teach in the Academy-style, and their focus on the humanist, figurative tradition will help guide you in your search for technical form and personal discovery.
You will develop an appreciation of basic design, drawing and art history, as well as a strong foundation in the liberal arts. This program is often combined with earning the Missouri public school teacher certification (K-12).
Meet Abigail

This senior is getting professional experience and growing creatively.

Learn how Fontbonne made that possible.

Name: Abigail
Hometown: St. Louis, MO.
Major: Art

"I really like that I am given a thorough education in the hands-on aspect of art. Fontbonne makes sure you know the fundamentals of painting, drawing, sculpture, etc. before you dive into the technology and computers side of things in your major. Because of Fontbonne's art program, I have grown not only in what I am capable of creatively, but also in learning how to become more professional in what I do.

Fontbonne is certain to prepare you for the technical side of the art world in addition to becoming a greater artist by offering classes dedicated to perfecting that resume and portfolio, and even having you apply to be in gallery shows!

Junior and senior year you are actually in the gallery shows at Fontbonne's art gallery – it's a great way to gain exposure and make awesome connections."
Art Program Highlights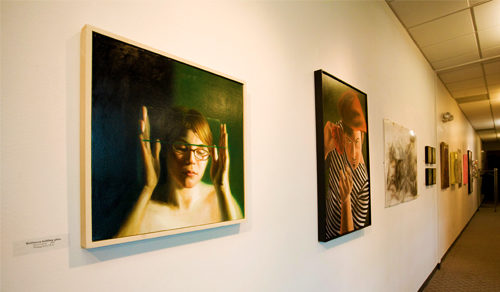 Academy-style teaching
Student participation in exhibits on and off campus
Graduate students as mentors
On-campus Fine Arts Gallery and visiting artist program
Ceramics, painting, sculpture, design and photography studios
Optional Missouri public school teacher certification (K-12) — Fontbonne University meets rigorous national standards for educator preparation set by the Council for the Accreditation of Educator Preparation.
Save
Save
Save
Save
Save
Save
Save
Save
Save
Save
Save
Save
Save
Fontbonne University's Art Graduate Successes
Jen Chapman '00 – Communications Manager at RubinBrown LLP
Kayla Leech '12 – Marketing Specialist, Client Services Inc.
Fontbonne University Gallery of Art's mission is to encourage and support the artist and the education of the visual arts in the community through its exhibitions and programs. Learn more.

Discover what our students, faculty and alumni are creating. Learn more.

Fontbonne University annually hosts a summer workshop and Saturday workshop for high school art students. This will be an intense, college level drawing and painting experience for highly motivated juniors and seniors. Learn more.
You may also be interested in:
Contact Us
Questions? Contact our Office of Admission: 314-889-1400 or 1-800-205-5862 | fbyou@fontbonne.edu