Expressive Arts and Integrative Therapies Certificate
The Expressive Arts and Integrative Therapies track provides foundation courses that  encompass a range of emergent skills, techniques and modalities recognized within the clinical social work practice fields. In addition to the certificate, the program provides seasoned clinical professionals with an additional skill set to enhance current professional practices in the form of Continuing Education Credits.
Required Courses for Certificate
ART 100

Beginning Drawing

3 credits

Basic skills in life drawing will be covered. The use of line, shape, value, and composition will be explored as tools in visual communication.

Basic concepts of color theory and paint application
developing toward an increased sensitivity to both color
and formal relationships. Working from a variety of
figurative/ life sources, students are exposed to an ever
broader agenda of painting concerns. Frequent
discussions and references to both masters and
contemporary artists encourage students to recognize and
increasingly pursue individual direction.

ART 220

Sculpture

3 credits

This class consists of work from life (primarily the figure and portrait head) in wax and clay. Methods of casting the works in plaster, bronze, and other media will be introduced and practiced as needed. Students lacking specific experience in these areas will initially focus on acquiring the basic skills and techniques required when working from life. As students gain experience, emphasis shifts to concept development and the formation of an individual direction.

HUS 230

Interviewing and Counseling

3credits

An introduction to basic counseling techniques with emphasis on problem solving,  solution-oriented methods, and psychosocial assessment.

SWK 331

Group Counseling

3 credits

Focuses on the basic issues and key concepts of group process for effective group  facilitation with a variety of populations.

SWK 372

Introduction to Psychopathology

3 credits

This course will explore mental disorders and dispel myths and stigmas surrounding mental illness. Theories and knowledge pertaining to psychopathology important for social work practice in any setting will be emphasized. The examination of strengths and limitations of classification systems of mental disorders, including the Diagnostic and Statistical Manual of Mental Disorders Fourth Edition (DSM-TR) and International Classification of Disease (ICD-10-CM). Current research regarding mental illnesses will be integrated throughout the course.

SWK 440

Introduction to Child Psychopathology

3 credits

This course will provide an introduction to mental health disorders frequently diagnosed in children. Examination of the impact childhood mental health disorders have on children, their families, and community. Emphasis on prevention and early intervention, as well as learning strategies to successfully work with challenging children in any environment. The importance of self-awareness and self-care will also be explored. Prerequisite: Junior and senior status.

SWK 322

Fundamentals of Expressive Arts and Integrative Therapies

3 credits

This course introduces students in the helping professions to expressive therapy history, theories, modalities and methodologies. Through assigned reading, class lectures, and experiential exercises, students learn the distinctions between expressive art therapies and traditional talk/verbal therapies, when the use of art is appropriate to augment clinical work and when it is not, and ethical considerations unigue to client art process and the art product.

SWK 420

Assessment and Advanced Clinical Practice with Individuals Using Expressive Arts Therapies

3 credits

Students will be introduced to specific assessment tools, techniques, and fundamental issues regarding diagnostic indicators which arise in expressive therapies. Using these assessment tools and indicators, students will also learn advanced practice skills in expressive art therapy, challenges in working with some populations, and self-care and burn-out prevention strategies through use of expressive arts.

SWK 422

Equity and Social Justice in Expressive Arts and Integrative Therapies

3 credits

Because of the cross-cultural appeal of art and other expressive vehicles, expressive arts therapy is well-suited to a wide range of clients in a wide range of settings. Art is also an equalizing media, making expressive arts therapy an inherently viable option for exploration of equity and social justice issues within the United States and internationally.

Through didactic and experiential exercises, students will become familiar with basic issues of equity and social justice. Students will also be introduced to expressive therapy prompts, directives and invitations designed to help clients process issues of inequality and/or injustice and illicit change in individuals, families, groups, or communities in which these issues have been problematic.

SWK 424

Working with Families and Groups Using Expressive Arts Therapies

3 credits

This class will focus on multi-client systems in which expressive therapies will be utilized to promote fundamentals of family systems and groups process theories.

SWK

Social Work Project and Thesis

3 credits

A final project along with a 50 page, APA Style thesis describing the project, will be required of each student who wishes to complete the Expressive Arts and Integrative Therapies Certificate.

The project may coincide with a field placement or stand alone as separate event, which in some way incorporates Expressive Arts Therapies into a family, school, workplace, community or organization.

All tenets of the certification program must be included. Fundamental knowledge of expressive arts and integrative therapy, assessment, advanced skill, systems or group theory, and attention to issues of equity and social justice should be included in the project and final thesis.
Choose one of the following:
ART 319

American Artist

3 credits

This course will provide a forum for discussing issues relating to the visual arts in America from the seventeenth century to the present and to the political, religious, and social histories that influenced them. Offered odd years.

ART 161

Art History Survey II

3 credits

A survey of Western art and architecture from the Renaissance to the present.
Continuing Education Program
If you're already a credentialed professional, we also offer advanced skills training in Expressive Arts and Integrative Therapy. Learn more about this 30-hour continuing education program.
National Healthcare Decision-Making Day Featured Fontbonne Social Work Connection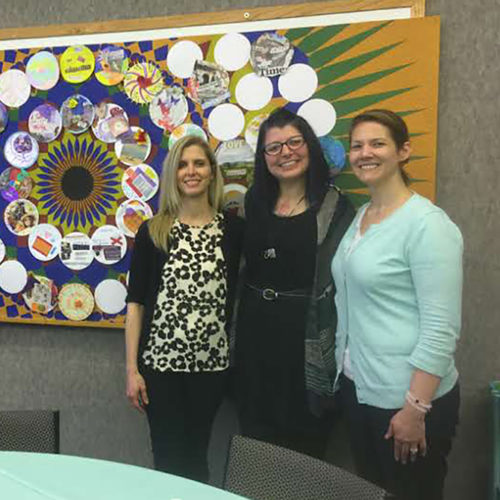 The Fontbonne University social work department was a co-sponsor of the National Healthcare Decision-Making Day open house and expressive arts workshop at St. Luke's Hospital in Chesterfield April 18, 2017.
Contact Us
Questions? Contact our Office of Admission: (314) 889-1400 or (800) 205-5862 | fbyou@fontbonne.edu