Advanced Skills Training:
Expressive Arts & Integrative Therapies
A 30-Hour Continuing Education Program
Approved by the Missouri Division of Professional Registration Committee for Social Workers
Program Description
This innovative program offered by Fontbonne University's Department of Social Work is designed for credentialed professionals who are established in their field of practice.
This is an ideal opportunity for those who wish to expand their repertoire of clinical modalities and prefer challenging and unique opportunities, all while fulfilling continuing education requirements.
Participants will meet from 9 a.m. to 5 p.m. for four Saturdays. Each session will encompass content specific to expressive and integrative therapies, including three hours of required ethics and three hours of multicultural content.
A final project synopsis will be required of each participant who wishes to complete the Expressive Arts & Integrative Therapies Certificate. The project may coincide with current employment, a volunteer project, or it may stand alone as a singular or separate event which in some way incorporates Expressive Arts Therapies into a family, school, a workplace, a community, or an organization.
American Art Therapy Association Features Fontbonne Program Director
Kim Anderson, MSW, LCSW, ATR-BC, REAT, has had a diverse career leading her to art therapy. During her early work as a free-lance writer, photographer and graphic artist, she explored her interest in outsider art (i.e. expressions of oppression and liberation beyond conventional artistic borders or boundaries), a theme that remained consistent through all her artistic and clinical endeavors. Read more from the AATA.
Program Structure
Class times:
All classes will be held on Saturdays.
October 14 – November 4, 2017
9 a.m. – 5 p.m.
Class location:
Fine Arts Building, Room 231
Fontbonne University
6800 Wydown Blvd. • St. Louis, MO 63105
Oct. 14

Introduction
Course overview
Fundamentals of expressive arts and integrative therapies

Oct. 21

Equity, social and environmental justice issues in expressive and integrative therapies
Multicultural considerations in clinical practice

Oct. 28

Assessment and advanced clinical practice skills with individuals using expressive arts and integrative therapies
Ethical issues distinct to expressive arts and integrative therapies

Nov. 4

Expressive arts and integrative therapy approaches to work with families, groups and communities
Closure: how to say a proper goodbye
Cost Information
The course fee for the Expressive Arts and Integrative Therapies program includes a 30-hour continuing education certificate, certificate of completion, all materials and supplies, continental breakfast, boxed lunch, afternoon snack and parking pass.
Early bird course fee (if registered before July 1):  $2,529
Early bird course fee for Fontbonne field instructors (if registered before July 1):  $2,276
Regular course fee (if registered on or after July 1):  $2,975.
Discounted course fee for Fontbonne field instructors (if registered on or after July 1):  $2,678
National Healthcare Decision-Making Day Featured Fontbonne Social Work Connection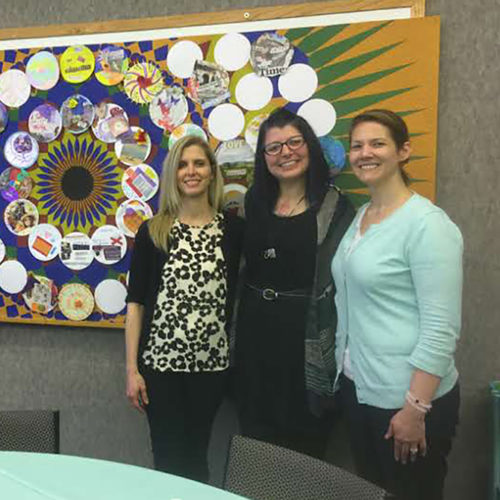 The Fontbonne University social work department was a co-sponsor of the National Healthcare Decision-Making Day open house and expressive arts workshop at St. Luke's Hospital in Chesterfield April 18, 2017.
For More Information
Contact Kim Anderson, MSW, LCSW, ATR-BC, REAT
Expressive Arts & Integrative Therapies Program Coordinator
Social Work Department
KAnderson1@fontbonne.edu
(314) 719-8004