Claire Sheehan, Fontbonne University's Associate Director of International Affairs, traveled to South Korea and Vietnam for three weeks this past October to build relationships with prospective students, alumni, high school counselors and in-country educational partners.
"These events are all about making a genuine and personal connection with people who may have never heard of Fontbonne before," Sheehan said. "During the fair and presentation, many students and parents came up to me wanting to learn more, so it was great to see such a tremendous amount of interest."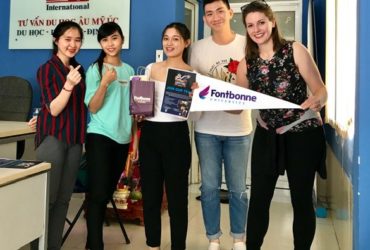 Sheehan meets with educational partners in Ho Chi Minh City in Vietnam.
Although Fontbonne currently hosts students from more than 27 nations, Sheehan stated one of the primary reasons the university has garnered significant interest from Vietnamese and South Korean students is because of its small class size.
"For many international students who have never visited the United States before, the idea of a close-knit campus like Fontbonne is very appealing and can feel safer," Sheehan said. "Our intimate environment provides the personalized one-on-one support and attention a lot of these students are looking for."
Fontbonne's Intensive English Program also attracts students from Vietnam and South Korea. It offers them the opportunity to be fully immersed in the study of the English language while connecting them to other students from around the world.
"Not only are the majority of Intensive English Program classes small, but they are also exceptionally diverse," Sheehan said. "We often have students from nations such as Saudi Arabia, China, Japan and Thailand all in one place. Not only is everyone learning English at the same time, but English becomes the language that unites them. They learn the language more efficiently because they need to use it to communicate with one another."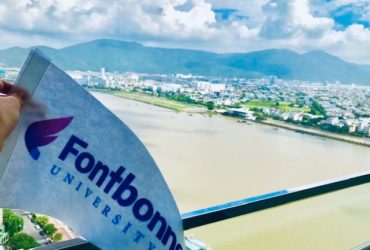 "Immersing myself in the countries I visit helps me better understand the background and values of our students." – Claire Sheehan
Recruiting students from countries around the world is a priority for Fontbonne, which is why Sheehan and other representatives from the university's Office of International Affairs travel to Nepal, China, Japan and India—as well as Vietnam and South Korea—every year.
"Some schools only do armchair recruitment, but for Fontbonne, having a physical presence around the world is important," Sheehan said. "As a smaller university, it is critical for us to boost our name recognition in countries outside of the U.S., and doing that in-person makes a difference."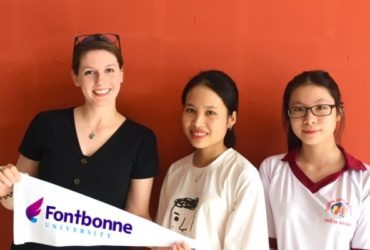 Sheehan poses with students after a meeting about Fontbonne's educational opportunities.
Sheehan said face-to-face interactions allow her to relate to students more than she could over the phone or through a computer.
"When international students are choosing a school, location is also important," Sheehan said.
"Some international students aren't familiar with St. Louis, so being able to sit down with them and show photos of St. Louis and talk about why I love calling it home enables me to make connections that I couldn't make any other way."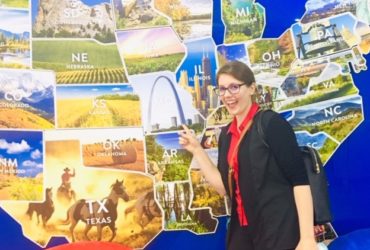 During her visits abroad, Sheehan enjoys talking to students about St. Louis' student-friendly atmosphere.