Service Spotlight
At Fontbonne University, service is just a part of who we are and what we do. The Sisters of St. Joseph (our sponsors) were called to serve the dear neighbor in 1650 by Father Jean Pierre Medaille. He instructed those six women to go out and assess the needs of the community and meet those needs. He called the people served "the dear neighbor."
Today, the Sisters of St. Joseph or Carondelet and associates serve in more than 20 states, 35 Dioceses, as well as Peru, Chile, and Uganda. Many of the sisters and associates live and serve in the St. Louis area. They serve in the areas of education, deaf education, healthcare, elder care, counseling, spiritual direction, parish work, outreach ministries, prison ministries, immigration services, women's and children's services, art, music, and prayer.
Over 350 years later, this legacy continues at Fontbonne University.
Service Spotlight - Najwa and Noha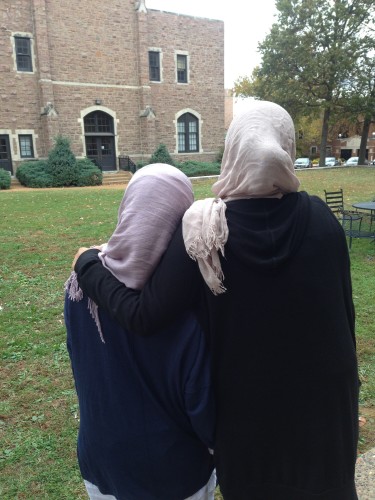 Sisters, Najwa and Noha Ibrahim, are two Fontbonne students fromSaudi Arabia who have spent part of their time this year volunteering at The Magic House. The Magic House is a children's museum whose goal is to "engage all children in hands-on learning experiences that encourage experimentation, creativity and the development of problem-solving skills within a place of beauty, wonder, joy and magic."
When asked why they chose to volunteer at The Magic House, both responded about the joy of helping children.
Noha: "We don't have this type of place in our country. We wanted to learn about it and how it works. We wanted to help children to develop skills and thinking to help them be prepared for life."
Najwa: "I like the way that they are helping children to create things!"
Not only are Noha and Najwa helping to give back to the children in our community, they're also learning some things themselves.
Noha: "I've learned that art is very important here (in the United States). They respect it and teach the students from a much younger age. I like that!"
Najwa: "Also, we've gotten to learn some ways to using different techniques in art."
For Najwa and Noha, the art studio was a good fit given their background in studying art. They've been able to connect their volunteer work to their studies, and have been encouraged by the Magic House staff to use their own ideas with the children in the studio. However, they wanted to be sure others knew that there are many other places at The Magic House in which volunteers can come help out.
Noha: "I encourage others to volunteer there. They are very nice and respectful. If any student wants to get experience with childcare, how children learn, and how to help them they can go to The Magic House."
Najwa: "I think it's especially useful for teachers. They can get a better idea how to communicate with children."
Noha: "It's been great practice for us. We had never interacted with children before, only middle and high school youth. It's been a good experience!"
Najwa and Noha have been great advocates for encouraging others to get started volunteering. Already they've had two friends that they've recruited to begin volunteering there this month. If anyone else is interested in learning more about The Magic House, they can check out their website.
Both Najwa and Noha are graduate students getting their Master's degrees in Curriculum and Instruction. They also received their undergraduate degrees from King Abdulaziz University in Art Education. They plan to return to  Saudi Arabia at the end of next semester.
Service Spotlight - Raven McFadden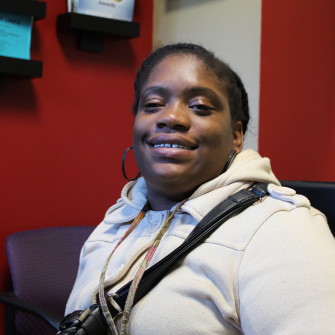 Raven is a senior at Fontbonne studying Communication Studies. This year she's gotten involved by serving in the community through several different facets. She's helped with Girls on the Run and the Midwest Coalition, and she hopes to soon get started serving at Karen House, a Catholic Worker House of Hospitality.
Several weeks ago, Raven began serving with the Midwest Coalition. She stated, "I've been doing different research opportunities. They do a lot of community outreach like working with Ferguson and the United Way by trying to see where the funding is going."
When asked why she decided to work with them she replied, "It's convenient, and I can get out in the community more to reach other areas of the city. I feel like I can be of help behind the scenes."
However, this isn't the only place that Raven has served. She's also helped with Girls on the Run, an organization that works to empower young girls. Raven said, "The service work that I did with Girls on the Run taught me that especially with young girls we need to be there to build them up and to encourage them to be positive and to live good lives."
For Raven, service is important. She stated, "To me, it's important to serve because you never know when you're going to be on the other side of the coin. You never know when you might be the one who's in need, so you should always try to help others." And she encourages other students and faculty at Fontbonne to do the same. Her last words were, "Try to get out there and serve as much as you can!" Those are wise words, Raven!
Contact Us
The Service, Diversity and Social Justice Department is located in the Student Affairs Office on the first floor of Medaille Hall. Contact the Director of Service, Diversity and Social Justice at 314-889-4503 with inquiries.