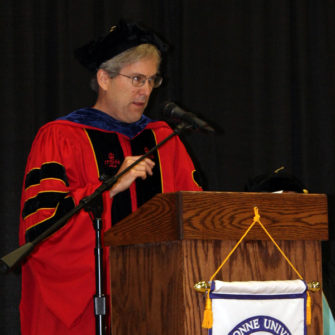 Fontbonne University's Aug. 30 Academic Convocation marked the official beginning of the academic year, as well as the 2017 Dedicated Semester focused on "Identity: Me, Myself and Why." Dr. Wayne Brekhus, professor of sociology at the University of Missouri-Columbia, gave the convocation address, titled "Identity: We, Myself and Why?" discussing the social nature of identity.
Following the convocation address, Fontbonne President J. Michael Pressimone spoke to the students, staff, faculty and guests assembled to . His remarks are below:
"The other night I arrived home and my 13-year-old eighth-grade daughter Grace said, "I have to interview you for class." Her final question was, "If there was a book written about you, what would its title be?" I pondered for a few minutes and responded 'The Unforeseen Road.' Nearly 40 years ago as I was beginning my meandering journey through college, I did not envision this moment. I did not see myself standing in front of a group of students wearing academic regalia attempting to deliver sage remarks. The reality back then was that I was not fully me! I could argue further still, after years of personal and professional experience, that I am still not fully me. I, like you, am very much a work in progress.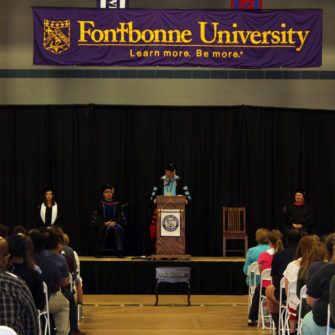 "Look around you. Really, take a look. You will find yourself sitting in a sea of unfinished business. However, each one of you has the necessary qualities and the capacity to be spectacular! Each of you possesses the appropriate spiritual, physical, emotional and intellectual gifts given by a divine and loving creator necessary to live a full and productive life professionally and in service to the dear neighbor.
"Surely we are not all alike. Some are more physically abled then others. Some of us are left-brained while others are right-brained. Some are emotionally open and others more guarded. That's who we are. Some of us are brown; some white. Some speak Spanish as their native language, others Mandarin. Some call the creator God, some Jesus, some Allah. And here we all gather, some for the first time, as members of the Fontbonne University community, dare I say family. For many, that is and has been a hallmark of the Fontbonne experience. We are a family.
"In addition to the many gifts and abilities we bring with us to Fontbonne, we are also formed by our experiences in our own families, our communities, our country and the world. The recent events that unfolded in Charlottesville, Va., have challenged our sometimes passive thinking about race and racial hatred which still plagues our country.
"In his 1999 homily delivered at a solemn Mass in St. Louis, Pope John Paul II stated:
"'As the new millennium approaches, there remains another great challenge facing this community of St. Louis, east and west of the Mississippi, and not St. Louis alone, but the whole country: to put an end to every form of racism, a plague which your Bishops have called one of the most persistent and destructive evils of the nation.'
"Here we are, 18-years-later and we are confronted by white supremacists, neo-Nazis and the alt-right marching in one of our cities and sowing seeds of hatred.  We should be changed by this! It is unacceptable and untenable that you could claim to be a member of this community — no, this family — and turn to that person next to you and declare your hate simply because she or he is different.
"In the days following the Charlottesville incident, I issued a statement in which I encouraged all of you to reject this hatred. As a Catholic university founded and sponsored by the Sisters of St. Joseph of Carondelet, we oppose this racial hatred.
"The Fontbonne community is in many ways a microcosm of the world community.  As such, we can be a place where we all can discover how to best live together on this increasingly small planet we share. It can and should be a place of experimentation, but, like all good science experiments, there are controls. This community should stand as an example of how to live in peace, embracing our differences and caring for the dear neighbor to your left and right. Then you must leave this place and show others by your example how to heal our communities and move forward together. As I have stated in the past, this campus is a sacred space. All of us who are members of this community must be treated with respect and dignity having been created in the image and likeness of a loving God! There is no room for hatred in this campus.
"As we take time to reflect on the very idea of identity this semester, let's search within ourselves for our best possible selves. Let us be formed by one another as we learn to appreciate the great beauty that comes with difference. Let's care for each other."
Save