Internship and job searching can be intimidating and frustrating at any point in a person's career. And with an ever-changing job market, successful candidates need a competitive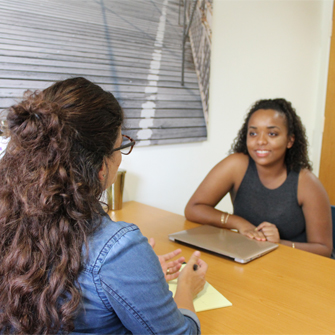 advantage if they're going to stand out and get the job.
One of the ways in which Fontbonne University's office of career development supports students and alums at every stage of their career is with the online platform, Purple Briefcase.
Purple Briefcase is a valuable resource for both current students and alumni that connects employers and job-seeking candidates. It's not just another online job board; this interactive platform also provides networking and career education content.
"Students can do so much in Purple Briefcase to get noticed and prepared for a successful job search," said Christine Keller, director of career development at Fontbonne. "They're able to schedule appointments with career counselors, apply for on-campus employment, submit a resume for review, apply for jobs meant for Fontbonne students and receive tips and training in a fun and interactive way."
Employers submit internship and employment opportunities through a secure connection. All postings are verified through the office of career development before students are able to view and apply for them.
Job seekers can view the postings, as well as upload their resumes, search for local career fair and hiring events, and access career preparation resources such as interview tips, cover letter guidelines and information on today's job market.
 Fontbonne's partnership with Purple Briefcase began in 2015 and has proven to be essential to students searching for the perfect job or internship.
Junior Nia Coleman is a fine arts major with an emphasis in graphic design and is one of many students who has benefitted from Purple Briefcase. "It's a really helpful tool," she said. "It's a literal job search engine exclusively for Fontbonne students. I've dealt with sketchy websites and I trust that Purple Briefcase is tailored for us and the jobs are legitimate."
Whether students are just starting out in college, searching for an internship program, launching their career or even if they're an established professional looking to make a change, Purple Briefcase has resources and job listings relevant to every search.
Learn more about career development at Fontbonne.