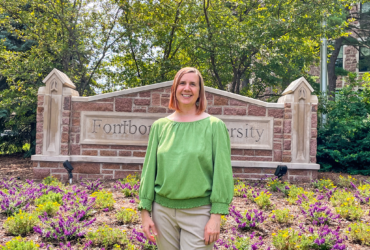 Fontbonne University has named Dr. Heather French Vice President for Student Affairs. Dr. French joins Fontbonne from the University of Health Sciences and Pharmacy (formerly St. Louis College of Pharmacy), where she served as Vice President for Student Affairs from 2018 until 2021 leading institutional efforts to increase student satisfaction and retention.
In her role at Fontbonne, Dr. French will oversee student support services, including residential life, counseling and wellness, the LACE Center (orientation and student engagement, multicultural services, campus ministry) and public safety. Additionally, she will provide support to Title IX, student conduct and student retention efforts. As Vice President for Student Affairs, Dr. French's immediate focus will be to establish strong lines of communication and collaboration with students, faculty and staff, as well as leading the student affairs team through organizational transitions and strategic planning.
Dr. French's professional portfolio includes an extensive background in higher education at Holy Names University, Sonoma State University and the University of California at Riverside, as well as the Massachusetts College of Liberal Arts.
"When I learned of the opportunity at Fontbonne, I felt a sense of familiarity from my time at Holy Names University in Oakland, California," Dr. French said. "Comparable in size and Catholic in its founding, the possibility of joining Fontbonne was accompanied by a sense of familiarity and excitement." During her tenure at Holy Names, Dr. French was Assistant Dean of Students and then Dean for Student Development and Engagement.
Dr. French shared her ardency for beginning this new chapter at Fontbonne University. "I am so endeared by the Fontbonne students and immediately connected with them during my interview process. The diversity of Fontbonne's student body is something I really cherish. I was also very impressed with the student affairs team, and look forward to working with a group that holds such a steadfast commitment to the institution."
Dr. French also expressed her enthusiasm for working with Dr. Nancy Blattner, President of Fontbonne. "I am honored for the opportunity to work with such a visionary and energized leader, and her passion to create positive change at Fontbonne. I'm very excited to work under such a strong female leader."
"We're delighted to welcome Dr. Heather French as Fontbonne's Vice President for Student Affairs," Dr. Blattner said. "Her passion for providing access to higher education for all students, coupled with her commitment to supporting student-centered initiatives, is evident in what she has accomplished in her career. Our students will benefit from Heather's leadership of the student affairs division."
A native of Maine and St. Louis resident since 2018, Dr. French is looking forward to remaining in the St. Louis area and expanding her family's roots. "I'm looking forward to lots of different ways that I can start making connections and building relationships in the community."
Dr. French holds a doctorate in educational leadership from Saint Mary's College of California, a master's degree in counseling psychology from Humboldt State University, and a bachelor's degree in human studies from Bradford College in Haverhill, Massachusetts.