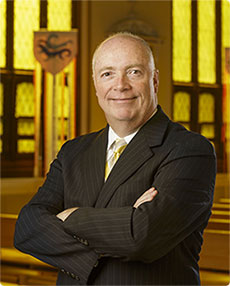 "The recent images from Charlottesville, Va., have been jarring and disturbing. Charlottesville is home to the University of Virginia — an institution of great reputation known as one of the foremost intellectual centers in our country. How does a university respond to these horrific scenes during this troubled time? Let me take a moment to respond on behalf of the Fontbonne community.
"The commitment to the  'common good' found in our mission statement leaves no room for ambiguity. The hatred on display in Charlottesville in the faces of the alt-right, white supremacists, Ku Klux Klan and neo-Nazis has no place on Fontbonne's campus. A year ago, after returning from the scene of the violence at the Pulse night club in Orlando, I declared that Fontbonne will be a 'no-hate zone.' I affirm that commitment today in the strongest possible terms. We will continue to inspire our 'students to become global citizens who think critically, act ethically and serve responsibly.' Such women and men will transform our communities and repel the darkness of hate.
"Students, rest assured that we want your Fontbonne home to be safe and secure. We want to help you deal with these troubling images and expressions of hate, but we also challenge you to be advocates of love and peace. The Sisters of St. Joseph took up their ministry during very dark days in 17th century France. Through their faithful work, they helped to rescue a society. We must all do the same for our communities. If you have concerns or continue to be troubled, please reach out to those who may be able to best support you, both on and off campus. If needed, campus professionals in the Student Affairs Office are an available resource for both pastoral and professional counseling, and other referrals.
"We will continue to pray for healing in the face of hatred."

J. Michael Pressimone, President
Save
Save
Save
Save
Save
Save
Save