A Natural Fit
Share this article
By Elizabeth Brennan | Tableaux, Summer 2016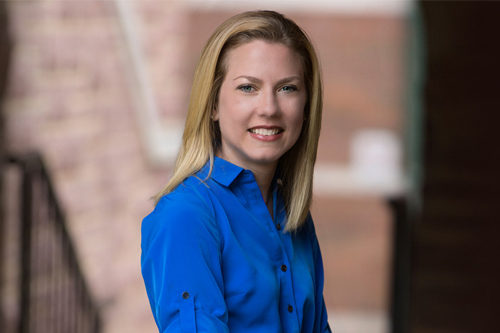 It's not difficult to understand why her fellow faculty and students nominated Laura O'Hara for the Joan Goostree Stevens Excellence in Teaching Award. O'Hara, assistant professor of speech-language pathology, exudes enthusiasm — for her position, her profession and Fontbonne. Wrapping up her third year of full-time teaching, this Fontbonne alumna and former school-based speech therapist never planned to become a college professor, but now that she is, she wouldn't have it any other way.
O'Hara, a Collinsville, Ill., native, wasn't sure what she wanted to do with her life after high school. When she discovered Fontbonne, however, she gained some clarity.
"I knew I wanted to go into a helping profession," she said. "Speech-language pathology seemed like a natural fit. I was immediately drawn to it. Because it contains elements of both education and medicine, it offers so many professional options."
One of the many benefits of Fontbonne's program, she said, was its incredible faculty.
"It's very surreal to return to Fontbonne and teach alongside my professors. I felt so fortunate to have learned under the best SLPs in the country," said O'Hara, who, as the 2016 Joan Goostree Teaching Award recipient, is in good company. She and her colleagues are known throughout the U.S. and even the world as experts in their field.
In 2003, O'Hara graduated from Fontbonne with a bachelor's in speech-language pathology. In 2005, she then earned her master's, also from Fontbonne, before going to work in the Collinsville, Ill., public school system as a speech therapist. And she would have remained there — she loved her job — if she had not decided to earn her Ph.D. as well. Teaching online classes part time at Fontbonne eventually led to a job offer. A full-time position became available, and O'Hara went for it.
"It's really a team effort here," she said. "There's so much support. When people talk about the 'Fontbonne family,' it's really true — it's everyone together."
O'Hara, who is married and has two boys, finds that support invaluable. She commutes from Collinsville to Fontbonne's campus in Clayton. Her busiest days are filled with both classes and office hours, and she arrives back home only with enough time to read books and pray with her boys before they go to bed. But summers are more relaxed, and when she's not teaching, you can find O'Hara outdoors, gardening, hiking and boating.
Professionally, O'Hara never expected to be where she is now. But she is proof that a little faith and a lot of hard work can help defy even our own expectations, leading to ample opportunity to learn more and be more — for ourselves and for others.
"The students are so gifted and grounded in service and helping others. I'm so honored to watch them grow. This is what a Fontbonne education can do — that I get to be a part of that is amazing."