campF.R.E.S.H.® encourages healthy lives, one adventure at a time
Share this article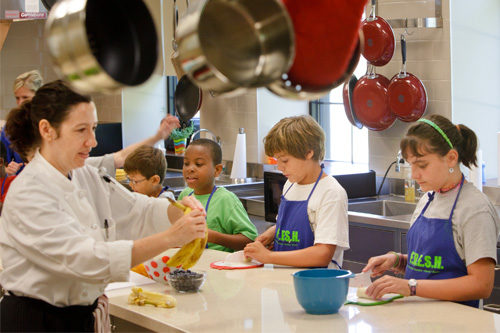 Children from throughout St. Louis will "travel" to all seven continents and learn about different cultures, healthy eating and physical fitness — all from the campus of Fontbonne University. campF.R.E.S.H.® is a summer day camp at Fontbonne that takes kids on an interactive, hands-on journey toward better health through activities emphasizing nutrition, wellness, physical exercise and creativity, weapons in the fight against childhood obesity.
"Childhood obesity, which leads to greater health risks, has more than tripled in the past 30 years," said Mary Beth Ohlms, camp director, registered dietitian and Fontbonne assistant professor. "Healthy lifestyle habits can lower these risks. And children who learn these habits at a young age not only have a better chance for a healthy life themselves, but they can help influence the health of their families."
The camp is open to students entering 4th, 5th, 6th and 7th grades this fall. Scholarships are available for students who qualify for free or reduced meals in the School Lunch Program. Campers will go on weekly field trips, cook healthy, kid-friendly lunches each day, and learn about cultures and cuisines all over the globe.
Registration is now open. campF.R.E.S.H.® runs from June 5 – July 28, 8 a.m. – 5 p.m. each day. Early drop-off and late pick-up times are available.
Learn more or submit an application.
Save