Expressive Arts Coordinator to Present at Fall Conferences
Share this article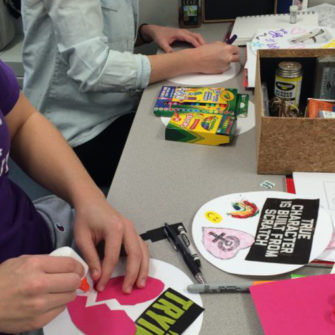 Kim Anderson, adjunct professor and coordinator of the new Fontbonne University expressive arts and integrative therapies program, will present workshops at two significant conferences this fall.
In October, Anderson will present in Chicago at the 36th Illinois Art Therapy Association Annual Conference, the theme of which is "Intersecting Art Therapy and Social Justice." This year's conference seeks to strengthen the role of art therapists in promoting social change, to acknowledge the profession's responsibility to the community, to provide professional education about issues of oppression, injustice, and violence, and to encourage transformative social change. Anderson's workshop, "Culturally Considerate Art Therapy: Drawing on Our Differences," is an experiential workshop based on her books published by Corwin Press.
Anderson will also present an original workshop titled "The Trickster in Treatment: Managing Unexpected and Unusual Clients and Situations" as part of the faculty of the 7th Annual Expressive Therapies Summit in New York City in November. The four-day summit is a "multimodal, intermodal and multidisciplinary" program offering quality educational opportunities to creative arts therapists, educators, students, arts professionals, mental health, senior and hospice care, and social service professionals.
Anderson has taught the Introduction to Expressive Arts Therapy course at Fontbonne since 2015. The success of that course has led to the expressive arts and integrative therapies program, launched as a specialized track available through Fontbonne's department of social work in cooperation with the department of fine arts. The department of social work also offers a 30-hour continuing education certificate in expressive arts and integrative therapies for professionals.