Inspiration and Determination Fuel Clinic Mission
Share this article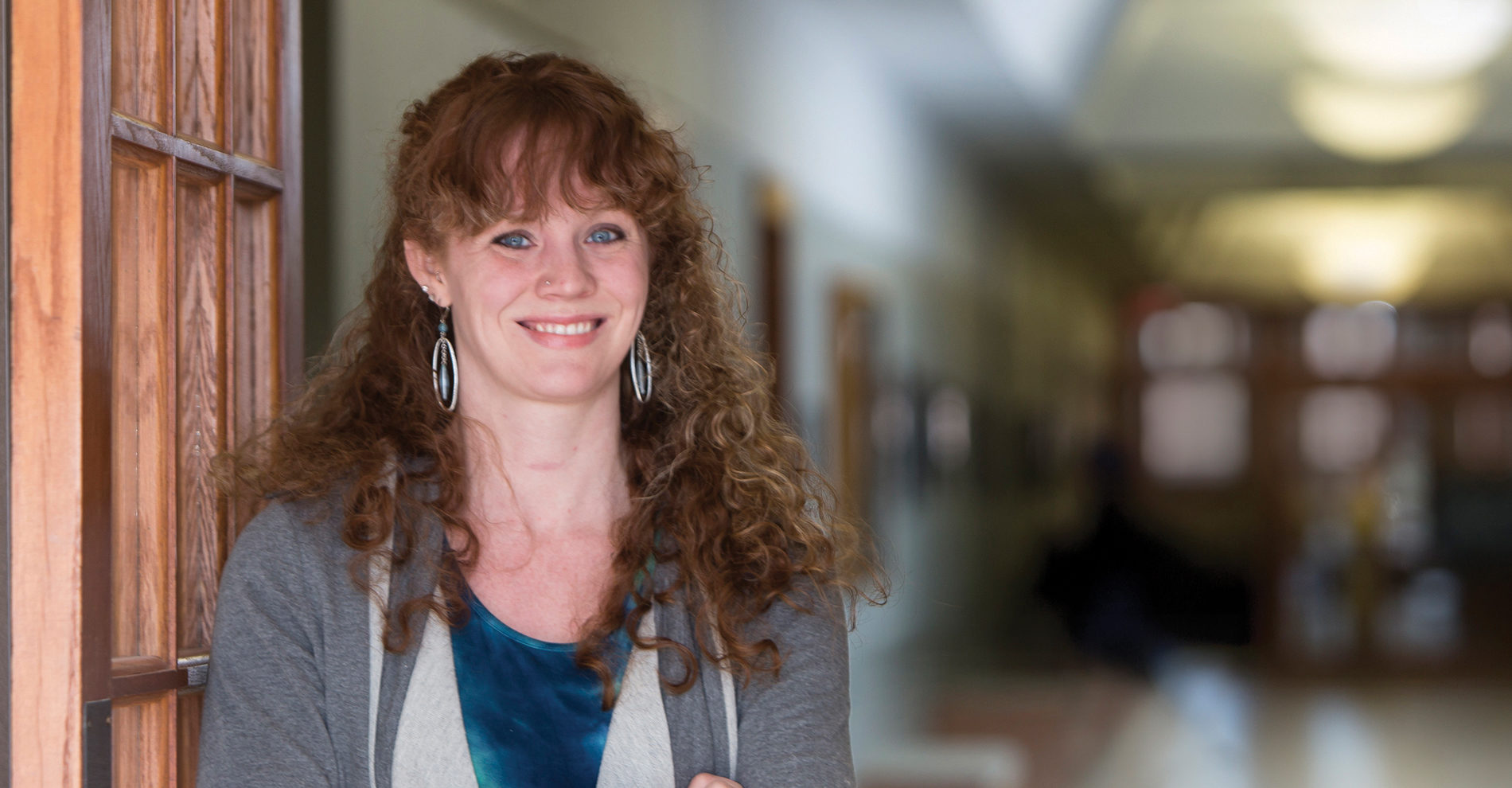 By Mark Johnson | Tableaux, Winter 2017
Behind the one-way mirror of therapy room 4, a young woman with curly auburn hair and bright blue eyes focuses intently on the Spanish book in front of her. Urged on by her therapists — a faculty member and a graduate student in Fontbonne University's communication disorders and deaf education department — 29-year-old Lindsey Dumm reads aloud, slowly and with determination. She is fluent in Spanish, but the words don't flow easily.
Three years ago, Lindsey was living in Madrid, Spain, working as an au pair. It was her way of seeing the world after graduating from the University of Missouri – St. Louis where she had majored in communications and public relations. One weekend, she trekked over to the beautiful portside city of Valencia for a festival. She and her friends were watching fireworks from the top floor of their hostel when Lindsey fell from a window. Six floors and a stone courtyard below were a cruel end to the night and the beginning of what continues to be a challenging yet amazing journey back toward recovery.
Lindsey is one of hundreds of clients — ranging in age from 18 months to 90 years old — who have been served at Fontbonne's Eardley Family Clinic for Speech, Language and Hearing. Students and faculty evaluate and treat a wide variety of communication disorders that result from conditions such as developmental delay in young children, cerebral palsy, hearing impairment, stroke and traumatic brain injury.
Lindsey was treated in a Spanish hospital for a month before she was stable enough to be medevacked back to St Louis. She remained in a coma for the first two months following the accident.
"At first, of course, we were focused on getting Lindsey out of the woods," said Carol Dumm, Lindsey's mom. "Once we got to a certain point in her recovery, all the focus was on her physical and cognitive abilities, but not on her speech. That's when I discovered the Fontbonne speech clinic. It's been extremely beneficial to Lindsey's progress."
Lindsey has accepted the slow, steady pace of her recovery.
"You have to retrain your brain to think about breathing in and out properly when you're talking," Lindsey offered, as an example of the simplest things that most people don't think a moment about. "Right now, I'm working on my intonation so that I don't talk flat. And I like singing, so that has helped with my therapy."
Making a personal connection with clients is key to a successful therapy plan, and getting to know them is part of the process.
"Including the client's wants and needs is crucial in creating a plan that the client is motivated to achieve," said Claire Gunn, a 2016 speech-language pathology graduate of Fontbonne and a current student pursuing her master's in SLP. "Singing songs that Lindsey likes and working on her rate of speech while speaking in Spanish are two ways we were able to incorporate who she is into her treatment. It's more personal for her and more applicable for daily life."
A community asset
The clinic is a teaching facility for both undergraduate and graduate students in Fontbonne's SLP programs. The students provide therapy services under the supervision and direction of faculty who are certified and licensed in SLP.
"Our clinic has two important missions," explained Barb Meyer, an associate professor and director of clinic education for the communication disorders and deaf education department. "We prepare future clinicians who will be out in the world in a variety of settings helping so many people regain their speech and language functions. We also serve as a meaningful community asset, especially for those who might not otherwise be able to access or afford the type of specialized therapy we provide."
In fact, services at the nonprofit Eardley Family Clinic, previously discounted, are now free as of fall 2016.
"Therapy is expensive, especially if it's outside of insurance coverage," Carol Dumm said. "I tell people all the time what a great resource the Fontbonne clinic is. Having access to this type of service, as frequently and consistently as we need it, is such a huge relief for families."
Danielle Barford cradles her 6-month-old son, Thomas, on her lap. He's bubbly, bouncy and content to do what babies do — babble on. She's observing her other son,
2 1/2-year-old William, who's quietly eyeing a colorful construction paper Christmas wreath and a set of stickers while patiently listening to a therapist's instructions.
"We started noticing something was off around 15 months," Barford said. "He wasn't mimicking me or my husband. And he wasn't trying to form words."
Eventually, the Barfords' pediatrician recommended the Fontbonne clinic, and they've been attending sessions since August 2016. William's therapist, SLP graduate student Sara Nosovitch, explained how the Christmas wreath was more than an art project.
"We were working on a Christmas activity to expose him to new vocabulary that he would hear in the next several weeks," she said. "We want William to associate what we work on in therapy to settings outside of the clinic. It's also important to work on fine motor skills, which is why we were using stickers. This will stimulate another part of his brain, making new connections that will assist him in communicating."
In just the short time William has been coming to the clinic, he's made "amazing progress," his proud mom said.
"Before we started, Will had 10 or so words he used consistently, and he needed prompting to use those. He didn't see verbal communication as his primary way to communicate with us," she said. "He now has a huge vocabulary, and he comes up with his own words to tell us what he wants. His confidence level has gone up, and his frustration with not being able to communicate with us has gone down."
A Mother's Hope
Though Barford readily admits there is no way to predict William's long-term success, she is — naturally — optimistic.
"My hope is that by the time he starts school, you would never know he had speech therapy as a toddler," she shared. "Early intervention is so important, but if he needs additional help when he's older, there's an amazing program here with people who obviously love kids."
For William's therapist, those are encouraging words. Not only is Nosovitch a student, she's a mom whose own children needed speech and language therapy. She knows firsthand how important the clinic work is and it drives her.
"The most rewarding part of working in the clinic is seeing the progress the clients are making," she said. "I am so proud to be a part of that process for other families."
For Lindsey, therapy is not really like therapy at all.
"I like that the therapists are my age. I can relate to them," she said. "It's a relaxed environment to go to, and they try to make the program tailored to me. That makes it fun."
That's gratifying for Gunn, who says "people" were the main draw when she decided to pursue this career path.
"I feel privileged to journey alongside my clients, even for a short period of time, helping them communicate to the best of their ability and reach or exceed their goals," she said.
"It's extremely rewarding. Sometimes I think that they teach me more than I teach them!"
The Journey
As Lindsey leaves her twice-a-week therapy session, the tall, angular young woman does her best to walk deliberately despite a hitch in her gait. She talks about an upcoming adventure — a 5K Santa run.
Lindsey won't be the fastest in the race, but she is likely one of the most determined. And when she regales others with stories from the race, her big smile will be a special thanks to the students and faculty at Fontbonne who have helped make it possible for her to share her experience.
Learn more about undergraduate and graduate speech-language pathology programs at Fontbonne.
Save
Save
Save
Save
Save
Save
Save
Save
Save