Thanks to Monsanto Fund, Girls-in-Science Program Engages Emerging Scientists
Share this article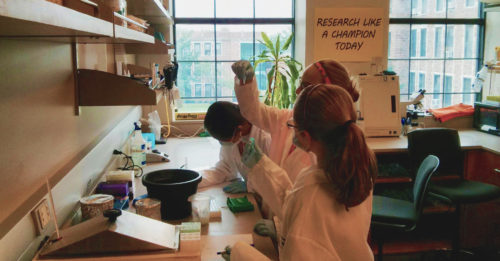 For 25 7th-9th grade girls, science will come to life this summer during the two-week Girls-in-Science Research Program at Fontbonne University. Thanks to a $14,000 grant from Monsanto Fund, the free camp will this year grow from 12 to 25 girls, expanding in reach, depth and opportunity.
Girls-in-Science was brought to life in 2015 by Kelly Lane-deGraaf, assistant professor of biology and director of the One Health program at Fontbonne. Junior high-aged girls, especially in underserved populations, lack real-life mentors in the sciences. A history of racial, social and economic division within St. Louis creates additional barriers for young girls of all backgrounds to pursue education and careers in science. Knowing this, Lane-deGraaf created a program that engaged, encouraged and supported young women to continue exploring the sciences.
"We aim to change thinking about science from a 'body of facts' to a 'toolbox to explore the world,' and increase interest in science careers among diverse, traditionally underserved groups of students by showcasing diverse women scientists," said Lane-deGraaf. "Funding from the Monsanto Fund is equivalent to opportunity for these young women and invaluable to us as educators."
During this research experience, girls work directly with Lane-deGraaf to learn and practice basic biology skills, in fields as diverse as genetics, parasitology, animal behavior, and modeling and coding. The Monsanto Fund grant will cover a variety of program costs, but most importantly, it will fund transportation options for participants who would otherwise not be able to participate. Additionally, it will allow for two undergraduate women in science to join the program.
"By offering a program that allows 7th-9th grade girls to come to a university, interact with women scientists and undergraduates, learn the practices of science, see experiments fail and be given the opportunity to learn from those experiments, this program facilitates girls learning science in the way it is actually practiced," said Lane-deGraaf.
The Girls-in-Science Research Program will take place Monday, June 19, through Thursday, June 30. Application information is coming soon.
About the Monsanto Fund
The Monsanto Fund, the philanthropic arm of the Monsanto Company, is a nonprofit organization dedicated to strengthening the communities where farmers and Monsanto Company employees live and work. Visit the Monsanto Fund at www.monsantofund.org.