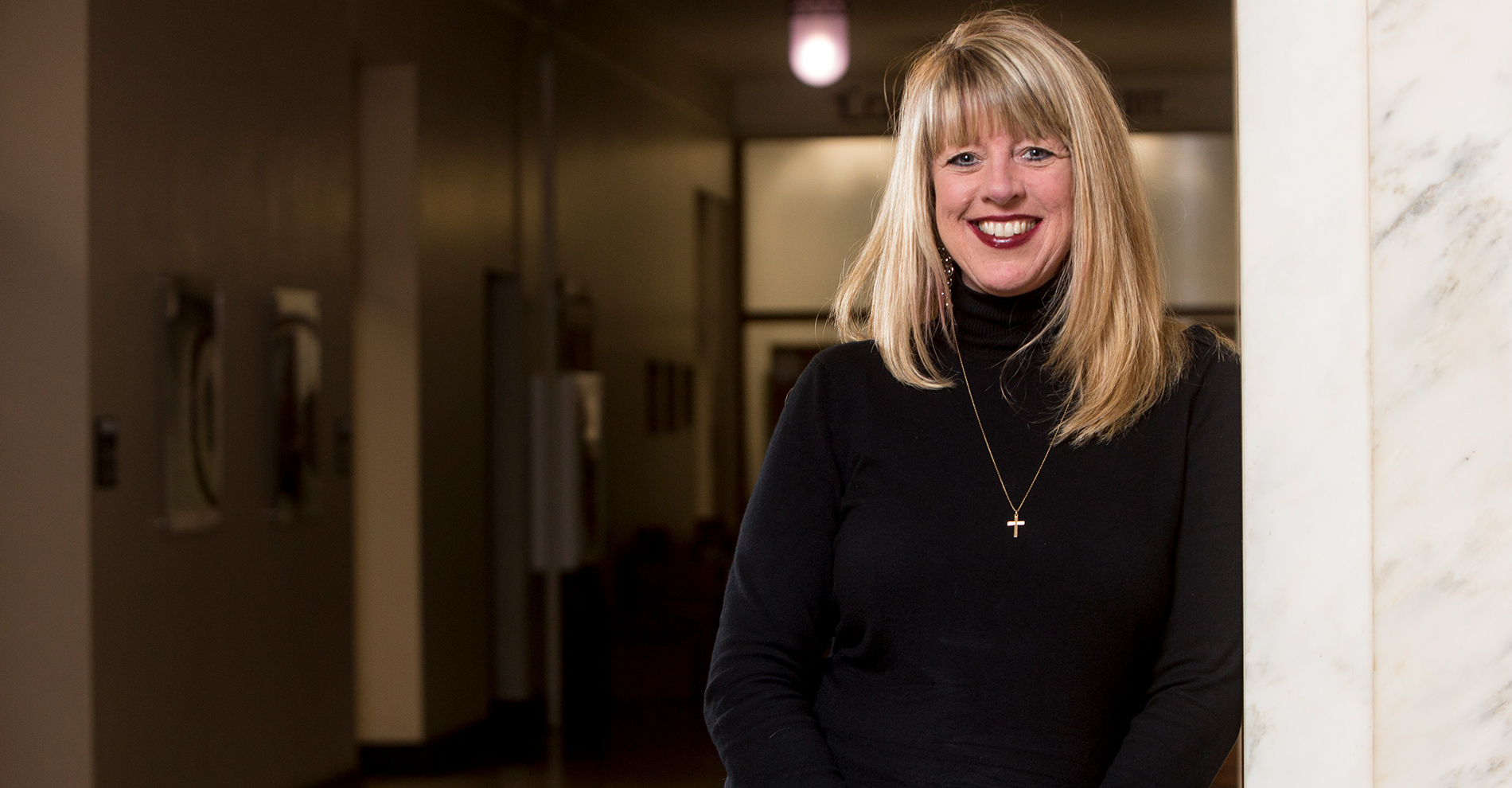 By Elizabeth Hise Brennan | Fontbonne Magazine, Spring 2018
In 2017, Lisa Vansickle transitioned from a career in corporate banking to her new role as vice president – chief financial officer for Fontbonne University. The Webster Groves, Mo., native earned a Bachelor of Science in Business Administration – Accounting from what was then Southwest Missouri State University, then spent nearly 30 years in accounting, finance and business operations roles, first at a Big Four accounting firm, then for First Bank. At Fontbonne, she oversees a variety of departments, including the accounting and finance, physical plant, public safety, general services, environmental services and human resources teams, and she lends a methodical approach and calming presence to the campus community.
When she's not in the office, you can find Vansickle outside, often with her yellow lab, Austin, a rescue dog, or riding horseback "as far into the middle of nowhere as possible." She talked recently with Fontbonne Magazine about her career, her decision to move into the world of higher education and what she brings to the Fontbonne community.
What inspired you to go into a career in finance?
When I was a child, I enjoyed going to the bank with my mom and dad to deposit my birthday money into my own savings account. My parents taught me at a very young age the importance of saving for a rainy day and keeping track of your money.
What do you like about what you do?
In many ways, I feel that finance is like working a puzzle. You have to figure out how all of the individual pieces fit into the correct positions in order to achieve the overall goals and strategies you are trying to deploy, and you have to keep working at it and constantly be open to trying new and different things in order to meet your objectives.
What brought you to Fontbonne? Why a university?
I wanted to come to Fontbonne because of the opportunity to work in a mission-rich environment, where the end product is producing future global citizens that live their lives through a different type of lens based on the extremely personal, values-based educational experience they receive here. I was very impressed by the diversity of the university, the all-inclusive feel of the Fontbonne community, and the strength and vision of the strategic plan, in addition to the quality of the many individuals I met during the interview process.
How does your corporate experience benefit a university?
The diversity of the projects I have been involved with provides me with a very expansive background and strong leadership skills, not only on the finance side, but also in implementing strong corporate governance mechanisms intended to strengthen the organization and help build it for the future. Fontbonne is at a significant turning point and is poised for much success in the future. I am very excited about being a part of the leadership team of Fontbonne and helping to position the university for its next 100 years.