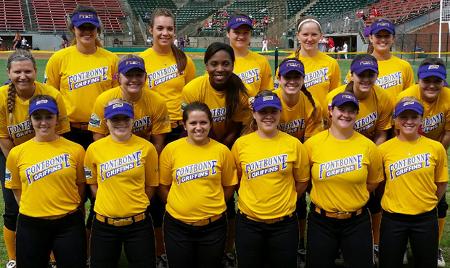 Please join the Fontbonne Athletic Department in congratulating our softball team as they won their sixth straight regular season St. Louis Intercollegiate Athletic Conference (SLIAC) title. The Griffins enter the SLIAC Tournament, hosted by Principia College in Elsah, Ill., as the No. 1-seed after going 14-2 in conference and 22-11 overall.
Fontbonne is riding a 10-game winning streak as they play for their seventh consecutive SLIAC Tournament Championship. The winner of this double-elimination tournament will receive an automatic bid to the NCAA Division III National Tournament. No. 1-seeded Fontbonne will play No. 4-seeded Greenville in the opening round at 5 p.m. Thursday, May 5th. The Griffins will play Friday at a time to-be-determined based on the below schedule and outcomes of Thursday's games.
Any Fontbonne student who brings a valid student ID can attend any of the tournament games for free, after you sign in. Admission to the tournament is $5 for adults and $2 for children under age 16.
Please join us in congratulating Coach Bill Rosner, his staff and team on winning the conference and wishing them the best of luck this weekend in the conference tournament.
For those who can't attend the tournament but would like to follow the Griffins' progress, you can tune in live at http://www.collegecasts.com/fontbonne-university/. Fontbonne's schedule updates will be on our athletic webpage as they change (www.fontbonnegriffins.com) and on Twitter (@FBUGriffins).
Schedule/Results
Thursday, May 5
Game 1 – #1 Fontbonne vs. #4 Greenville, 5 p.m.
Game 2 – #2 Eureka vs. #3 Westminster, 7 p.m.
Friday, May 6
Game 3 – Loser of Game 1 vs. Loser of Game 2, 1 p.m.
Game 4 – Winner of Game 1 vs. Winner of Game 2, 3 p.m.
Game 5 – Winner of Game 3 vs. Loser of Game 4, 5 p.m.
Saturday, May 7
Game 6 – Winner of Game 4 vs. Winner of Game 5, 4 p.m. – AUDIO LINK
Game 7 – Winner of Game 6 vs. Loser of Game 6 (If Necessary) – AUDIO LINK