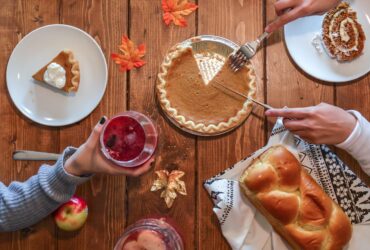 Due to the COVID-19 pandemic, holiday gatherings with family and friends may look different this year. As Thanksgiving break approaches, the Centers for Disease Control (CDC) is recommending the following tips for college students and their loved ones to help prevent the spread of the coronavirus and other illnesses like the flu.
Travel
Although traveling increases the risk of COVID-19 transmission, there are precautions students can take to protect themselves and others as they head home for Thanksgiving.
State, local and territorial governments may have travel restrictions in place, including testing and quarantine requirements and stay-at-home orders. Before you plan your trip, check the state, territorial and local health department where you are, along your route and where you are going.
If you're traveling abroad, check with the destination's Office of Foreign Affairs or Ministry of Health or the U.S. Department of State, Bureau of Consular Affairs, Country Information page for details about entry requirements and restrictions for arriving travelers.
Scheduling your flu shot this year is more important than ever. If you haven't already, get your vaccine before you leave campus at any of these community health centers and retail locations near Fontbonne.
Wear your mask in public places and while using public transportation.
Remain at least six feet apart (about two arm lengths) from people who are not members of your household.
Attending Thanksgiving gatherings
According to the CDC, the safest way to observe Thanksgiving is at home with people in your household; however, if you plan to attend a gathering, take the below steps to ensure a safer celebration.
Wear a mask with two or more layers that covers your nose and mouth and fits snugly against the sides of your face. Properly store it in a secure location while eating and drinking.
Stay six feet away from those who do not live with you, especially older adults and loved ones with medical conditions who are more likely than others to become severely ill.
Wash your hands often, and keep a bottle of hand sanitizer with you at all times.
Avoid areas where food is being handled and prepared.
Bring your own food, drinks, tableware and utensils. Use single-use items such as salad dressing and condiment packets when possible, and disposable plates, cups and silverware.
Alternative ways to celebrate
To make Thanksgiving as safe as possible, consider enjoying a virtual meal with family and friends outside your household.
Schedule a time to sit down to a virtual dinner.
Invite everyone to share recipes and show off their turkeys.
There are also many safe ways to celebrate with your family at home.
Watch Thanksgiving Day parades, sports and movies.
Play a fun game.
Participate in a gratitude activity by having everyone share the things they are thankful for.
Deliver traditional dishes to friends and neighbors. Make sure to avoid contact by leaving food properly packaged on the porch.
By taking the proper precautions, the Fontbonne community can enjoy a safer and healthier Thanksgiving. Visit the CDC's website for more tips and information.