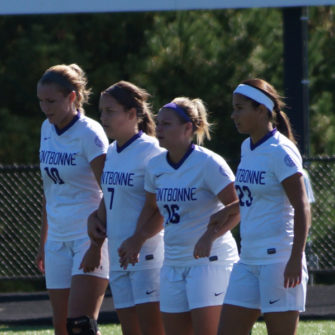 Fontbonne University women's soccer team stood strong against Spalding University in the semifinal round of the SLIAC Tournament on a long, cold, wet night.
After a four and a half hour game that consisted of two rain delays and 110 minutes of play, Fontbonne netted each of four penalty kicks to advance to the SLIAC Championship for the first time since 1996.
Spalding scored first, but Savannah Davis tied the game in the 51st minute on assists from Jacey Pate and Natalie Sipole. Fontbonne is now 12-6-2 on the season.
The Griffins will travel down I-44 to Fenton Soccer Park where they will take on No. 1-seeded Webster University at 7:30 p.m. on Friday, Nov. 4. The winner of the SLIAC Championship will advance to the NCAA Division III Tournament.
Save
Save