Individualized Supervised Practice Pathways
You're passionate about health and nutrition, and you've completed your undergraduate degree in dietetics, but you haven't secured a vital piece of your education — supervised practice, the critical internship experience necessary to become a registered dietitian nutritionist (RDN).
The Fontbonne University Individualized Supervised Practice Pathway (ISPP) is currently granted accreditation status by the Accreditation Council for Education in Nutrition and Dietetics (ACEND) of the Academy of Nutrition and Dietetics,120 South Riverside Plaza, Suite 2190, Chicago, IL 60606, 312/899- 400, www.eatrightpro.org/acend.
Continue reading below, and check out the links to learn more about our program, admission requirements, and application process.
Program Highlights
Half of the dietetics students who graduate with a bachelor's degree can't secure internship opportunities — there are simply too few internships to accommodate the steadily growing field. But the dietetic internship, also known as supervised practice experience, is required in order for students to sit for the national registration exam to become an RDN.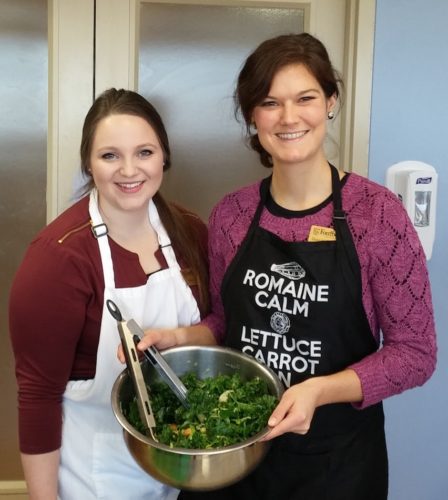 In September of 2011, in an effort to address the imbalance in the number of qualified students versus available internship opportunities, the Academy of Nutrition and Dietetics introduced the ISPP option. Fontbonne immediately applied for, and was accepted as a pilot school, with the first class of students beginning in 2012.
We are currently accredited to accept up to 15 students per year to participate in the ISPP. As an onsite combined graduate program plus supervised practice, students receive a traditional dietetic internship experience.
Learn more about out admission requirements and application process
Fontbonne's ISPP program, the only one of its kind in St. Louis, is connected directly to the university's Master of Arts degree in Family and Consumer Sciences with a concentration in multidisciplinary health communication studies. By enrolling in this graduate program, students with a bachelor's degree in dietetics can earn a master's degree, which will help them prepare for a career in health promotion, communication and education, and receive the valuable supervised practice experience they need to become an RDN.
Fontbonne has current agreements with over 40 sites in the St. Louis metro area which include RDNs and other qualified professionals who serve as preceptors, or mentors, for students in the program – many who are alumni of the university. Their years of experience and commitment to excellence bring a whole new level of individualization to the ISPP experience. The unique education and experiences received through our onsite combined master's degree and supervised practice program will contribute to your ultimate goal of becoming an RDN.
Learn more about our program by viewing our online Open House Presentation, and check out Frequently Asked Questions about the ISPP.
You may also access additional program information in the ISPP Handbook and Policy/Procedure Manual
Keep up with us on Social Media!
Instagram: @fontbonneispp
Facebook: @Fontbonne University ISPP
Social media pages are maintained by current ISPP students! Feel free to connect with them and ask questions "from a student's view", or send an email directly to ISPPstudent@Fontbonne.edu
Career Possibilities
Upon completion of our combined MA and supervised practice program, you'll be eligible to sit for the registration examination for dietitians, plus join the more than 45 percent of RDNs who hold a graduate degree. Graduates of our program are employed as wellness coaches, supermarket dietitians, clinical dietitians in acute and long term care facilities, research assistants, WIC and public health department dietitians, and nutrition education coordinators at school districts – just to list a few!