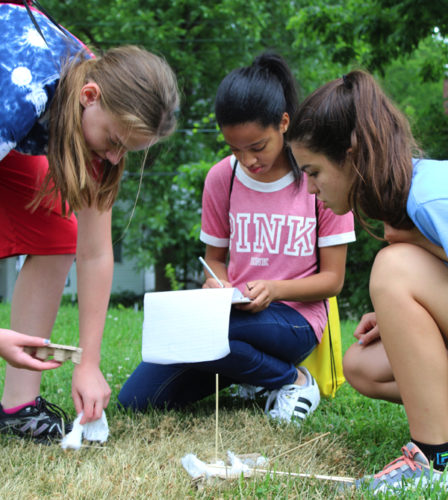 For 24 7th-9th grade girls, science came to life this summer during the two-week Girls-in-Science Research Experience at Fontbonne University. The experience, funded through a grant from Monsanto Fund, was free and ran throughout the last two weeks of June.
Girls-in-Science was brought to life in 2015 by Dr. Kelly Lane-deGraaf, assistant professor of biology and director of the newly developed Center for One Health at Fontbonne. Middle school-aged girls, especially in underserved populations, lack real-life mentors in the sciences. A history of racial, social and economic division within St. Louis creates additional barriers for young girls of all backgrounds to pursue education and careers in science. Knowing this, Lane-deGraaf created a program that engaged, encouraged and supported young women to continue exploring the sciences.
"We aim to change thinking about science from a 'body of facts' to a 'toolbox to explore the world,' and increase interest in science careers among diverse, traditionally underserved groups of students by showcasing diverse women scientists," said Lane-deGraaf.
During this research experience, girls work directly with Lane-deGraaf to learn and practice basic biology skills, in fields as diverse as genetics, parasitology, animal behavior, and modeling and coding.
"By offering a program that allows 7th-9th grade girls to come to a university, interact with women scientists and undergraduates, learn the practices of science, see experiments fail and be given the opportunity to learn from those experiments, this program facilitates girls learning science in the way it is actually practiced," said Lane-deGraaf.
Watch the video produced by the St. Louis Post-Dispatch.
Save