Early Childhood Concentration
With early childhood education as a top priority in the state of Missouri, the need for highly qualified early childhood educators continues to grow. The early childhood concentration in the Master of Arts in Education prepares professionals to work with pre-kindergarten through third-grade students in both public and private entities. The specialty course work allows you to examine, evaluate, research and implement early childhood curriculum and programming.
Concentration Highlights
Program total: 32 credit hours (degree and concentration)
Highly qualified and experienced professors
Selection of elective coursework provides you with the opportunity to earn an additional reading specialist and/or autism spectrum disorder certificate. (NOTE: The ASD certificate is not available during the 2017-18 academic year due to program revision.)
If you received your Bachelor's Degree in Early Childhood Education from Fontbonne University, you may be able to waive one of the required specialty courses allowing you to take an elective towards one of the previously mentioned certificates.
Format: evening or evening/online combination
Educator's Discount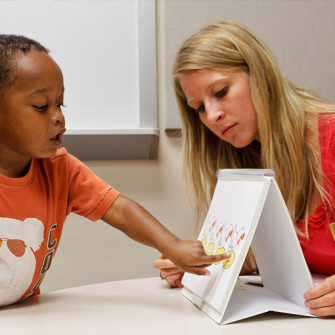 In appreciation of the services offered to our community by educators at all levels, Fontbonne University offers a 15 percent discount to qualified individuals enrolled in graduate coursework.
Qualified educators include those who work at least half-time in a nursery school, a pre-K through 12 school system or post-secondary institution.
A discount application form is available from the Fontbonne admission representative or program director with whom you are working. The form must be completed each semester or enrollment term to receive the discount.
Save
Specialty Course Requirements
ECE 578 Advanced Curriculum and Instruction in Early Childhood Education
EDU 525

Individualized Assessment andApproaches in Early Childhood SpecialEducation

3 credits

Emphasis on a variety of assessment and intervention approaches enabling teachers to  enhance their skills in identifying and responding to developmental and learning needs of the preschool child. Prerequisites: EDU 200 or DEA 200/210.

EDU 528

Differentiated Instruction

3 hours

This course examines components of differentiated and
brain-compatible instruction. Using best practice models,
participants review, evaluate, and apply methodologies
which lead to curriculum development, lesson/unit
planning, effective integration of technology, and other
elements which support brain-compatible and
differentiated instruction. Ways of aligning appropriate
assessment methods and making data-driven decisions are
addressed. Students reflect upon ways in which time,
resources, and energy can be focused to strengthen
differentiated instruction, ensuring that all students have
access to the curriculum and to meaningful learning.

ECE 551

Administering Programs for Children and Families

2-3 credits

Study of the management, planning, financing, staffing and overall administrative duties related to programs of serving the diverse needs of children and families. The
requirements of formal and non-formal education settings, not-for-profit, public and private institutions will be examined.