Reading Concentration
At the crux of educating children is teaching them how to read and process information. As a reading specialist, you will be prepared to help students learn in any subject and enhance your own chances for advancing your career. In Fontbonne University's Master of Arts in Education with a concentration in reading, students will earn a master's degree in education with the option of obtaining reading specialist endorsement from the Missouri Department of Elementary and Secondary Education. There is a growing need for reading specialists in public and private schools throughout Missouri and the country.
Concentration Highlights
Format: Offered online or face-to-face
16-week courses
Master's degree requires 32 credit hours. The reading specialist certificate may require additional hours.
Online students receive the same top-notch education as our on-campus students.
Professors are experienced practitioners.
Individuals interested in limited coursework for the purpose of meeting credentialing requirements as reading specialists are welcome to enroll in select courses.
Educator's Discount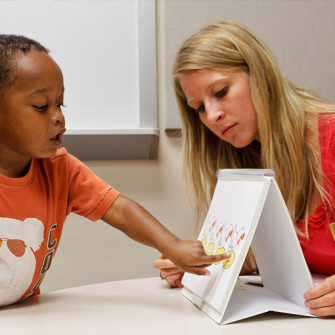 In appreciation of the services offered to our community by educators at all levels, Fontbonne University offers a 15 percent discount to qualified individuals enrolled in graduate coursework.
Qualified educators include those who work at least half-time in a nursery school, a pre-K through 12 school system or post-secondary institution.
A discount application form is available from the Fontbonne admission representative or program director with whom you are working. The form must be completed each semester or enrollment term to receive the discount.
Specialty Course Requirements within the 32 Hour Degree Program
EDU 549

Foundations of Reading Instruction

3 hours

Study of the foundations of reading pedagogy, practice,
theory, and research. This graduate course addresses
concepts of emerging literacy, comprehension of narrative
and expository texts, use of literature and text media,
interactions between reading and writing, development of
vocabulary and decoding, classroom organization, and
various forms of formal and informal assessment.

EDU 553

Assessment and Teaching of Students with Reading Difficulties

3 hours

A review of tests and instruments such as cognitive
achievement, informal, and affective are used to assess
students with reading difficulties. A reading case report
based on documented strengths and needs of a student
with reading disabilities is developed. Analysis and
remedial teaching processes to address those needs are
practiced. Prerequisite: EDU 549.

EDU 583

Practicum in Diagnosis of Reading Difficulties

3 hours

This course offers a case study approach to the diagnosis
and correction of reading difficulties, applications of
diagnostic instruments, and correctional strategies with
hands-on application of these practices. A supervised
practicum of 40 hours working with an elementary and a
secondary student is required. Data collected is translated
into teaching prescriptions. Practicum students prepare a
parent/family literacy project. Prerequisite: EDU 553.
Background Check Required.

EDU 584

Practicum in the Remediation ofReading Difficulties II

3 credits

This course offers a case study approach to identification of instructional goals, remedial  teaching strategies, selection of instructional materials, and assessment of learning progress. A supervised practicum of 40 hours working with an elementary and secondary student is required. Practicum students will develop a PowerPoint presentation to teach educational colleagues strategies for improving reading. Prerequisite: EDU 583.  Background Check Required.