Fine Arts Major
The Bachelor of Arts in Fine Art is the primary undergraduate degree offered by the department of fine arts.
Beyond fundamental courses, classes are taught in the Academy style, with students from all levels in the same class. This offers the opportunity to learn from peers as well as more advanced students. With the departmental emphasis on the figurative, skills and techniques are stressed, providing the basis for creative exploration, as well as instilling the idea of continual learning. Classes are small, allowing for much interaction between students and the instructor, and students and their peers.
Students engage in a medium in depth as their studio concentration: ceramics, drawing, painting, photography or sculpture. This concentration allows for both broad and deep exploration of the medium, building skills in creating work from initial conception to finished pieces. While the majority of their studio work will be in their concentration, the program's design allows for and encourages explorations in a variety of media. Courses provide instruction on the business end of making art, such as the presentation of artwork for exhibition, portfolio preparation and preparations necessary for gallery representation.
With a faculty of working artists, an ongoing visiting artist program, and an active gallery, opportunities are present for students to interact with professionals in the art world outside of the classroom, an important factor for artists at any level.
Meet Nicole

Nicole wanted a strong fine arts program without having to move far from home. What she found at Fontbonne was above and beyond her expectations.

Read more about her.

Name: Nicole
Major: Fine Arts

"I chose to study fine arts at Fontbonne because it is the only figurative university in the Midwest. I was also drawn to Fontbonne's traditional teaching techniques of the old masters. If you want this kind of education, you would typically have to go to New York City or California. Fontbonne offers these great opportunities close to home and in a smaller class environment.

The undergrad program is great because it gives the student an opportunity to try multiple mediums while still having a main concentration.

All of the faculty and staff go above and beyond to help their students succeed. Even when I thought the tuition was impossible to afford, the staff went out of their way to help make it possible. Fontbonne is a great university!"
Fine Arts Program Highlights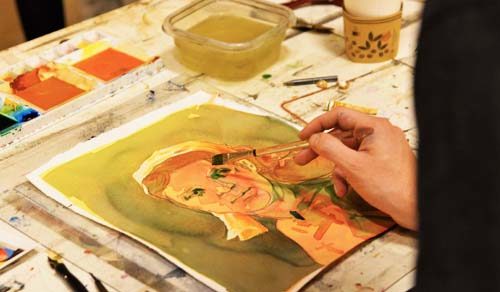 A broad range of course offerings, many specialized
Exploration of both Western and non-Western aesthetic ideas
Concentrations allow/require in-depth knowledge of area
Fall and spring thesis shows by all graduating students
Instructors are all professional, working artists
Professional exhibitions at the Fontbonne Fine Arts Gallery
Save
Save
Recent Internships and Projects or Presentations
Working artists often come to Fontbonne to give guest lectures or workshops. Past guests have included Andy Brandmeyer, Jane Barrow and Lon Brauer.
Students have interned at Anheuser-Busch, Fleischmann-Hilliard, River City Rascals, and müv (creative), among many other locations.
Fine Arts Course Samples
ART 160

Art History Survey I

3 credits

A survey of Western art and architecture from Paleolithic through Medieval times.

ART 100

Beginning Drawing

3 credits

Basic skills in life drawing will be covered. The use of line, shape, value, and composition will be explored as tools in visual communication.

ART 306

Modern Art

3 credits

The study of trends in contemporary art from 1880 to the present. All visual art forms will be discussed — paintings, sculpture, architecture, photography, and ceramics.
Alumni in Workplace
Julie Deken, MFA Painting 2012, City Farmology, Side Lots Farms, St. Louis MO
Metra Mitchell, MFA '08 — Teaching drawing and design at Forest Park Community College and Maryville University. Exhibitions include shows at PhD Gallery in St. Louis and The Foundry Art Center in St. Charles, Mo.
Bill Perry, MFA '12 — Continuing post-graduate studies in ceramics and drawing at Fontbonne. He has self-published three books, exhibited in numerous shows, and founded and continues to curate an annual juried exhibition of ceramic sculpture for St. Louis high school and college students.
Megan Maher '08 – Creative Director, MRCT Benefits Plus
Anthony Overkamp '06 – Creative Director, Engage Software
Fine Arts Career Opportunities
Fontbonne University Gallery of Art's mission is to encourage and support the artist and the education of the visual arts in the community through its exhibitions and programs. Learn more.

Discover what our students, faculty and alumni are creating. Learn more.

Fontbonne University annually hosts a summer workshop and Saturday workshop for high school art students. This will be an intense, college level drawing and painting experience for highly motivated juniors and seniors. Learn more.
You may also be interested in:
Contact Us
Questions? Contact our Office of Admission: 314-889-1400 or 1-800-205-5862 | fbyou@fontbonne.edu