Quinn – Professional Writing Major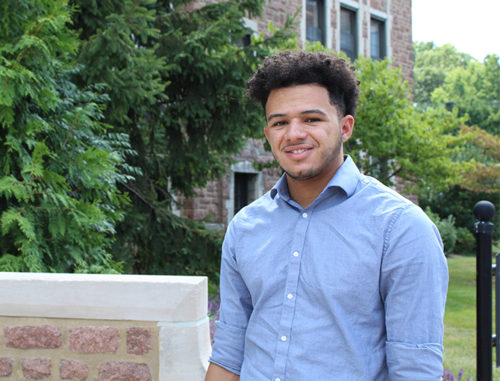 I interned with the Riverfront Times as a writer/reporter for the summer of 2017 and it was honestly one of the best experiences of my life. Journalism has been a field I have been considering for quite some time now and this opportunity definitely confirmed my aspirations of going into journalism as a career.
In my time with RFT I was able to get 26 articles published on their  website and three articles plus several photographs published in their weekly print publication. I even had the honor of having the most viewed article of the week at one of their weekly staff meetings. The work they gave me was never tedious or useless. I was assigned a story my first day in the office and had it published the following morning online.
I began primarily with some music writing work and as the summer progressed  I was assigned stories from different areas such as food, news and politics. By the end of summer, they had transformed me into an honorary field reporter and would have me go out to press conferences and talk to strangers on the street and practically pull stories out of the gutter.
The internship with RFT gave me a lot of great experience with writing at faster paces, working with deadlines, keeping close contact with people and finding both my strengths and weaknesses in the field of journalism.
Leah – Cybersecurity Major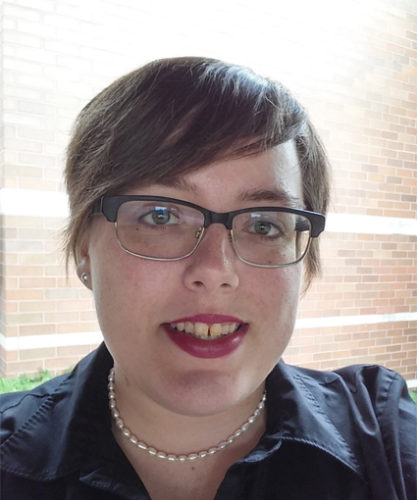 I interned at Enterprise Holdings' Global Cyber Security Center on the Monitoring Team.
I had the opportunity to put my cybersecurity education to good use by working on real cyber investigations and dealing with real threats. Interacting with specialists in cybersecurity gave me practical experiences and great insights into the life of security analysts. Enterprise ensured that the internship helped me develop myself professionally and technologically and at the same time provided a fun-filled experience. The summer flew by for me.
During my internship, I worked with Enterprise's security Monitoring Team. My favorite project dealt with behavior monitoring logs. The logs detailed what every program was doing all across Enterprise. My main goal was to look through the logs for strange behavior. Whenever I found something, I would investigate it. The investigation involved mainly open-sourced tools. Once I had confirmed that something was malicious, I would work with other members of the team so they could block it via the Trend Micro console and rebuild computers to completely clean their systems.
Working with the Monitoring Team really felt like a great way to start out in security. I knew the work I was doing was immediately helpful to the company. It was also interesting to be surrounded with actively-working security professionals just for the conversations I would get involved in.
It was really neat working with Enterprise. I think seeing how they work together and divide up security made a lot of sense to me, and it seems like it would be a great introductory job because you get to focus on one thing at a time. The environment is very open and friendly. I was glad to be on a team large enough that I wasn't the only girl (though, admittedly, there was only one other within the Monitoring Team). I learned a lot from this internship.
Andrew - Accounting and Business Administration Major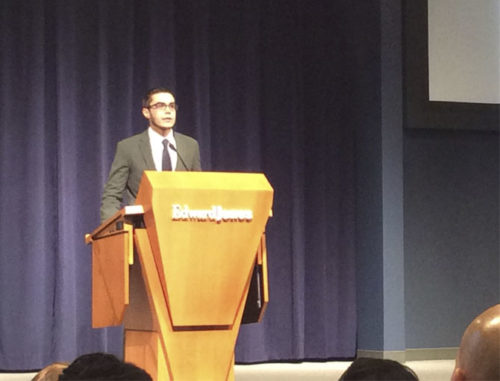 I interned in the tax hotline department at Edward Jones. My main responsibility was answering phone calls from clients who had questions about different forms for filing taxes. I really enjoyed helping the clients. My favorite part was when a client would tell me that I made their day or made their tax preparation easier.
Classes at Fontbonne prepared me for this internship by informing me about tax information, finances and especially how to be professional in a business atmosphere.
I learned a lot about filing taxes, Edward Jones and myself. The one thing that will always stay with me is to be confident in myself and go with the flow.
This is definitely the type of career I'd like to pursue after graduation. Edward Jones has an extremely welcoming environment and everyone there supports one another. It's part of their culture. I also received tons of helpful advice on my resume and learning how to be professional.
Learn more about the accounting and business administration majors.
Lourdes - Fashion Merchandising Major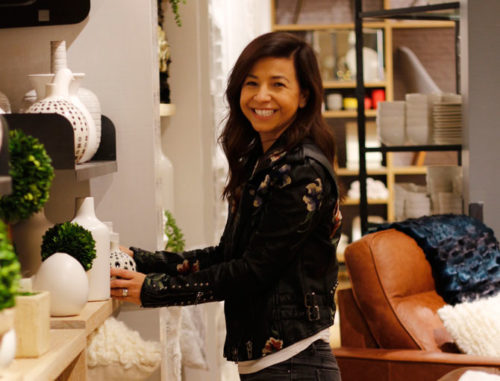 I had a great experience during my internship at West Elm. I was able to put into practice the principles and elements of design knowledge that I've learned in my classes. I experienced first-hand the importance of these principles when styling a footprint in the store. Every element relates to the others around the store as each footprint made appeals to the costumer, motivating them to shop and waking up their senses as they walk through the store.  I learned that when styling merchandise, it's important to apply different types of textures, sizes and a balanced, cohesive color scheme.
I also learned how the school ethic is reflected at work. We had to meet deadlines for our displays, and I enjoyed scheduling different tasks to be completed just as I do on a regular basis with schoolwork at Fontbonne.
This internship reaffirmed the importance of having a positive attitude when working with different types of personalities. Making sure to recognize people's strengths and weaknesses – along with my own – allowed me to successfully design and decorate comfortably in small group settings.
In addition to styling the merchandise, my team was responsible for all the merchandise pricing, mark downs and promotions. I witnessed the value of volunteering at all moments for different tasks. Offering to take on a variety of responsibilities improved my ability to succeed with different jobs, making me a more competent employee.
The visual merchandising position required more physical work than I expected. I also didn't expect to be such a significant part of furniture shopping for the fall season, which was really fun. Lastly, I didn't expect to have a lot of freedom when styling certain areas. I was intimidated at first, but I was so passionate that soon I gained confidence. I felt more comfortable as time went on and my confidence grew every day with each task I was assigned. I now feel that I can do anything that I set my mind to and don't think that I'll feel overwhelmed when starting a new profession in the future.
Even though I have held other jobs for many years now, working at West Elm has definitely prepared me to work in my future field. I plan on applying all the knowledge that I have learned though my years at Fontbonne and internship toward my future position. Overall, I really enjoyed this experience at West Elm as a visual merchandising intern and would like to continue with it, but I also would like to try different areas in order to become more knowledgeable in the industry. This was such a great learning experience for me, and I am excited for the next step in my career.
Learn more about the fashion merchandising major.
Ethan – Computer Science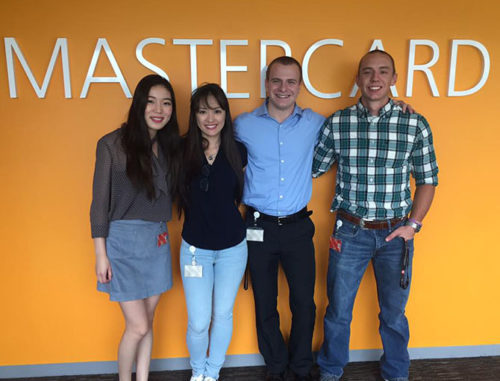 During my time at MasterCard, I did Linux scripting to set up development servers for a biometric authentication platform. This basically means I helped set up a way for the company to test their app that allowed users to confirm online shopping purchases with either a fingerprint or a picture of their face.
I really enjoyed working with my team and learning what it was like to develop software in an industry setting. The team I was on was doing work with a team out of Dublin, Ireland, so for part of my project I was able to work with people from another country. That was really interesting and I enjoyed it!
Without my classes at Fontbonne, I would have been clueless at my internship. What really prepared me was learning the ideas and concepts of programming. A lot of times I was asked to do a project different from anything I had done before, but the concepts I had learned in my classes made it easy to pick up the skills needed for these projects. 
 This internship experience was a great opportunity. It reaffirmed my goal of pursuing a job in software development after graduation.
Liz – Health Education & Promotion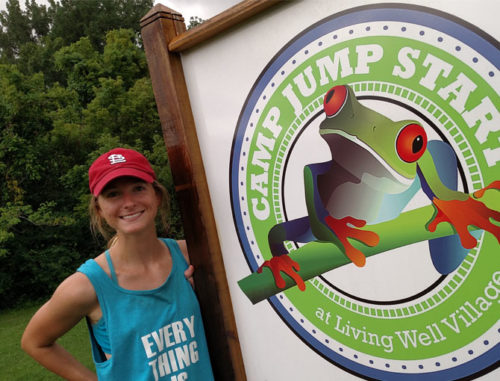 Camp Jump Start is a camp for kids who are looking to transform themselves physically, emotionally and socially. I was a counselor and aerobics instructor. I had a shared responsibility of around 80 campers and I was in charge of managing the serving line for all meals once a week and taught aerobics classes five days a week.
My courses with nutrition, psychology and counseling really helped me to be confident when I interacted with campers. I always felt prepared to answer any questions they had and give the support they needed.
I have countless memories from camp that make me smile, my favorite part of the internship was witnessing the campers' transformations, inside and out. Seeing the growth in confidence and self-esteem from the campers was the best part of the whole experience. Especially their reactions to the weight loss they achieved by the end of camp.
I may have been the one who arrived at camp ready to teach, but in the end, it was the campers who taught me a lot about myself. It was my job to promote a positive self-image and healthy lifestyle to the campers, along with teaching them helpful ways of dealing with their emotional or social issues. But I learned a lot about my own strengths and abilities, especially when it came to helping the campers work through their emotions. Crying people used to make me want to flee the scene, but camp taught me how to be comfortable with helping others face their emotions.
Working at Camp Jump Start was such a great fit for me that I decided to accept a full-time position with them!
Cathy – Communication Studies and Literary Studies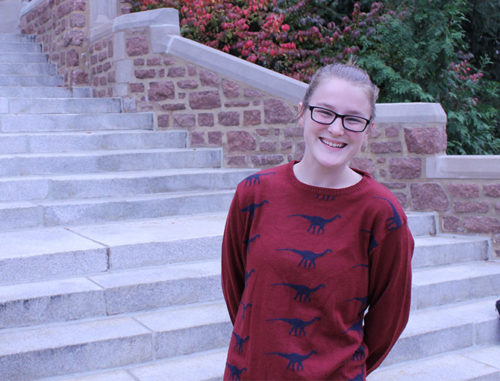 In the summer of 2016, I interned at River Styx Literary Magazine, a local literary publication that also sponsors community events.
Throughout my internship, I really got to see how a literary magazine runs on a daily basis.
My tasks included reading and processing reader submissions and scheduling weekly social media posts. Being in charge of social media taught me valuable skills, but I learned it was more stressful to have that responsibility than I ever realized.
My favorite part of the internship was experiencing the poetry readings and being a part of the literary community that the magazine has created over the years. After all the hard work of creating an issue and planning poetry readings, it was like a family gathering. I enjoyed being immersed in a type of community that I hope to work in one day.
Although I got a general overview of how a literary magazine functioned, the lessons about social media stand out to me the most. Learning how to strategically use social media and expand an organization's social media presence really helped me grasp that organizations have complex needs. Although social media may be a small facet of an organization, it has a huge impact on it.
My English classes at Fontbonne helped me with reading submissions for the magazine, as I was able to read them critically. My communication classes really helped me by introducing the terms and concepts that I would later see enacted or explicitly stated in my internship. 
My original goal was to become an editor, but I have discovered that I love communication in college. At River Styx Magazine, I was able to blend communication and English, and I think I would really love to do that in my career.
Learn more about the communication studies and literary studies majors.
Mary – health education and promotion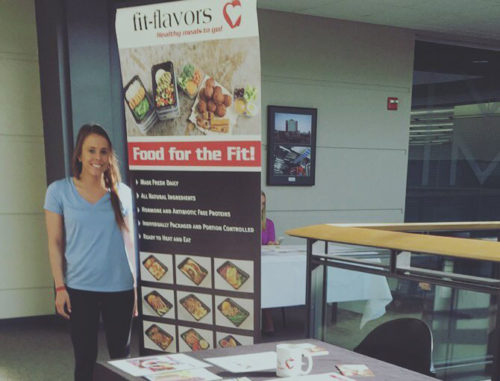 My internship at Fit-Flavors was a great experience.  Fit-flavors is a St. Louis company that prepares and individually packages fresh meals daily to be sold in their stores. I worked under the registered dietitian at Fit-Flavors, and she guided me through all my assigned tasks, while pushing me to improve skills and applying what I have learned throughout courses at Fontbonne.
I had the opportunity to work in several areas of the company.  Fit-Flavors uses a variety of ingredients in their meals, so I created educational nutrition documents detailing why Fit-Flavors uses antibiotic and hormone-free meats and poultry, grass-fed beef, stevia, whey protein powder and coconut oil.  I created documents about inflammation, top allergens and which Fit-Flavors meals are compatible with the Paleo and Whole30 diets. I reviewed all of the nutrition labels and ingredients for accuracy, as well as put all of the nutrition facts for the meals on the My Fitness Pal app.
Additionally, I assisted with Fit-Flavors FitU program which is an eight-week-long accountability group.  Those who signed up attended weekly workouts, a nutrition seminar and a cooking demonstration, which I also helped coordinate.  I took part in various health and wellness fair events where our team would talk and educate attendees about Fit-Flavors and the importance of healthy eating habits.
While working in the store front, I was able to talk to customers about how Fit-Flavors has positively impacted their life. It was great to hear that this company is making healthy changes possible for individuals in the community.
Celeste – Fashion Merchandising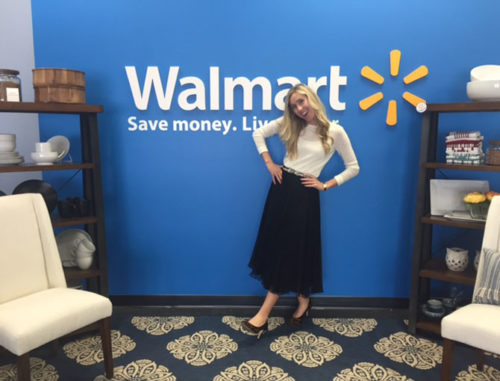 Organization, creativity and problem-solving. Those are the words that best describe the focus of my summer internship in the men's active wear department at Walmart's corporate office.
My responsibilities included attending meetings, job shadowing in various departments and gaining an understanding of the operations within my department.
Each intern was given a specific project, so I was responsible for attaining all necessary information in order to create a solution for the problem I was given. The best part? My project was well received and my idea is in the process of being rolled out to test stores.  If the plan works well with those stores, my idea will be implemented in all U.S. Walmart stores!
I loved networking with fellow employees and learning more about their positions within the company. Every individual I met with had such wonderful advice. One of the most important things I learned is the importance of organization! It is very important to stay organized with projects. Also, take notes on things you do not understand in order to research those topics later.
 My classes at Fontbonne prepared me for my internship, especially in terms of proper professional behavior. The professors at Fontbonne were so supportive of my internship and genuinely cared about my experience.
 I enjoyed this internship so much that I've already been accepted for a return internship for the summer of 2017.
Contact Us
Questions? Contact our Office of Admission: 314-889-1400 or 1-800-205-5862 | fbyou@fontbonne.edu