Career & Personal Development
Prospective Students
Career development is a lifelong process, and the Career Development office wants to connect you to your future goals and ideas as you develop and manage your career path, even in times of uncertainty. Whether it's discovering your ideal major, engaging you in the First-Year Career Foundations Program, or connecting you to a job on campus, we want to help you identify career interests and prepare for success!
Career Opportunities
Fontbonne University educates leaders to serve a world in need. Research the possibilities available to you with your interests, and connect early with the career development office to help you prepare for your future!
ENGAGING FIRST-YEAR STUDENTS
Our national award-winning First-Year Career Foundations (FCF) Program is a key component of Fontbonne's 'Education Focused on You' approach to your college experience. It is designed to help you get connected, be career ready, and make realistic and satisfying choices about career goals and academic majors in an ever-changing job market. For more information about this mandatory program, click here.
Work Study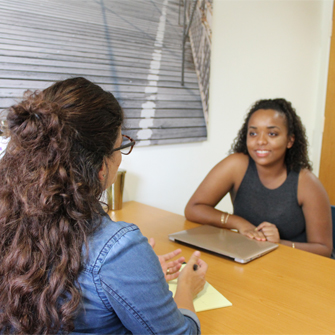 Federal and non-federal work-study positions are available on campus for full-time or part-time students. Check Purple Briefcase for openings. Purple Briefcase will also be your resource for internships, part-time jobs, and full time jobs.
The Financial Aid office can help you determine your eligibility. For more information, visit the financial aid office or talk to your financial aid officer.
Career Guidance
All Majors, Except Education