Welcome to Fontbonne University Career Development
Recognizing that career development is a lifelong process, Fontbonne's Career Development office connects students to their future goals and ideas as they develop and manage their careers over a lifetime, even in times of uncertainty.
Services we Provide
Career Counseling
Personality and interest assessments
Guidance when choosing majors and careers
Networking assistance
Mock interviews and interview prep
On-Campus Interviewing
Job and internship search advice
Work place etiquette training
Search for opportunities on Purple Briefcase
Career & Graduate School Fair
Thursday, September 28, 10:00 AM – 1:30 PM, in the gym
Recruiters and employers will be on campus to speak to YOU! For a list of employers and graduate programs attending this year's fair, please go to "My Events" in Purple Briefcase.
For more instructions on how to work a Career Fair, please click here.
Looking for a job or internship? Purple Briefcase, our new career network offers students and alumni more ways to connect with employers to find jobs, internships, and work study opportunities.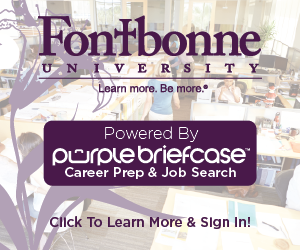 Need Help?
Current Fontbonne students and alumni may schedule an appointment by calling 314-889-4516 or stopping by the student affairs office in Medaille Hall, first floor. Office hours are held Monday through Friday, 8:00 a.m. to 4:30 p.m.
If you have quick questions or resumes to be reviewed, visit us during Walk-In Hours in the AMC. Walk-In Hours will return for the Fall 2017 semester!
NEW: Career Development offers Walk-In Appointments!
Monday, Wednesday and Fridays:  11:00AM – 12:00PM
Tuesday and Thursday:  3:30PM – 4:30PM