QUEST Leadership Initiative
QUEST Leadership Initiative is designed help Fontbonne students acquire foundational leadership skills, discern their personal strengths, and guide them on their personal vocational journey.
The mission of Fontbonne University is at the core of the QUEST Program – educating students to think critically, act ethically, and assume responsibility as citizens and leaders.
Who should participate in the QUEST Leadership Program?
EVERYONE! Any Fontbonne student is welcome to participate in the QUEST program. While it is encourage that students start the program in their first or second year, all students are invited to participate starting at any level.
Each peak has its own unique structure and purpose so while we recommend a certain sequence, students can design their own path of leadership development based on their distinct experience and needs.
What is the QUEST Leadership Initiative?
There are 5 phases (we call them peaks) of the Quest Leadership Initiative. Below is a picture that further explains the process: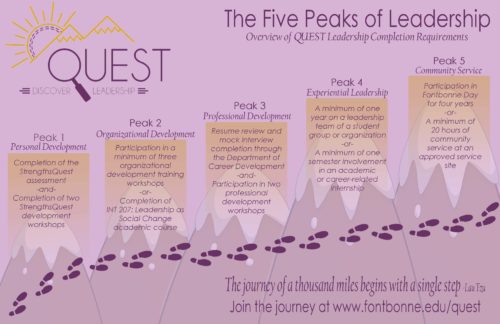 While each peak is designated for a certain length of time, the QUEST program is designed to meet the unique needs of each students. Throughout the program, if a student wants to delay or extend their enrollment, they may do so by working with the QUEST coordinator
What are the benefits?
Students who complete the QUEST program:
Are better able to articulate their personal strengths
Can identify their desired career path
Obtain skills and knowledge needed to be successful in their profession
Are better equipped to tackle tough world issues
Are uniquely qualified to bring about transformative change
Participants will receive a certificate and completion gift upon completion of each of the peaks. Students who participate in the QUEST Leadership Program will receive special recognition at the annual Leadership and Service Awards Banquet held at the end of the Spring semester.
How do I get involved?
Enrollment in the program is on-going. Sign-up now to get started and our QUEST Coordinator will be in touch with on how to become involved!
Additional Opportunities to Meet Program Requirements
Participation in the Male Leadership Summit will satisfy 2/3 of Peak 2 and 1/3 of Peak 3.
Participation in the Disney Leadership Institute will satisfy 1/3 of Peak 2 and 1/3 of Peak 3.
Participation in the Women Mentoring Women Program will satisfy 2/3 of Peak 2 and 1/3 of Peak 3.
Upcoming Workshops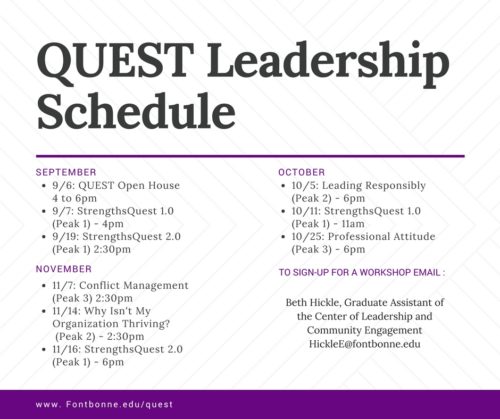 Contact Us
Questions regarding the QUEST Leadership Initiative can be directed to:
Beth Hickle, Graduate Assistant of the Center for Leadership and Community Engagement
HickleE@fontbonne.edu