When senior Kayley Cunningham graduates from Fontbonne University this May, she will receive more than just a diploma. She will also become the first Fontbonne student to earn a Peace Corps Prep Certificate of Completion.
Cunningham, who is majoring in general studies with a health emphasis, entered Fontbonne's Peace Corps Prep Program when Corinne Mason started it in 2018. Sadie Weiss, Academic Affairs Programs Coordinator, took charge of the program in September of 2019.
"I had been working with Sadie as the 1G Collective Senior Program Assistant, and I mentioned to her that I was interested in studying abroad and wanted to help others," Cunningham said. "I wasn't sure how I could do both those things, but when Sadie introduced me to the Peace Corps Prep Program, it turned out to be a perfect fit."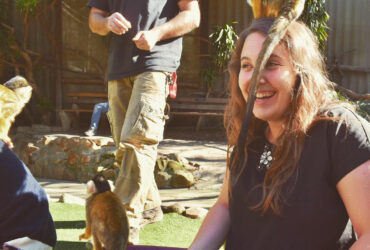 The Peace Corps immerses American volunteers into communities around the world, tackling long-term local and global challenges. Founded to offer Fontbonne students the support and tools needed to prepare for a commitment to global service, Fontbonne's Peace Corps Prep Program is the only program of its kind in the St. Louis area.
"We started a Peace Corps Prep program because Fontbonne's mission and values align so closely with the goals of Peace Corps," Weiss said. "It also gave us the opportunity to globalize our campus and provide our students with a customized program that not only prepares them for Peace Corps service, but also challenges them to be globally aware, reflect on their own practices, and engage in thoughtful dialogue and service."
Participants entering Fontbonne's program must choose to focus on one of six different sectors of Peace Corps service: agriculture, community economic development, education, environment, health or youth in development. Then they build core competencies through coursework, hands-on experience and professional development support, completing at least three courses and 50 hours of related experience in their chosen sector.
Cunningham focused on the health sector, which enabled her to take courses in areas such as healthcare management, One Health and psychology. She was also able to gain her required field experience teaching health to seventh grade girls in South Africa and educating elementary school students about various mental health topics in Saint Vincent and the Grenadines.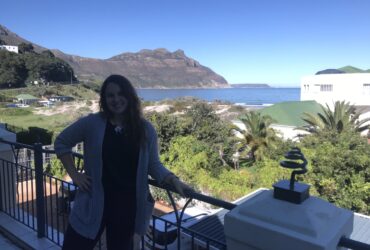 "My experiences in South Africa and Saint Vincent and the Grenadines were so impactful because I got to immerse myself in different cultures and build really meaningful relationships with those I worked with," Cunningham said. "The hands-on experience I gained also solidified my interest in working in public health."
Cunningham also appreciates the global perspective she cultivated while serving.
"I was born and raised in St. Louis and stayed here for college," Cunningham said. "If it weren't for the Peace Corps Prep Program, there wouldn't have been much of an opportunity for me to consider what public health looks like globally. It encouraged me to think outside the country."
For Weiss, that opportunity is one of the most valuable components of Fontbonne's Peace Corps Prep Program.
"In alignment with Fontbonne's mission, students in the Peace Corps Prep program are inspired to become global citizens as they learn to engage thoughtfully and fluidly across cultures," Weiss said.
This fall, Cunningham will enter Saint Louis University's Master of Science in Public Health program. Although she does not have any immediate plans to apply for the Peace Corps, Cunningham is confident her experience in Fontbonne's program will benefit her in her future career.
"This was a fun, fulfilling opportunity that I know will aid me in the long-run," Cunningham said. "Even if you don't end up entering the Peace Corps, the global awareness, service experience and leadership skills you gain will serve you well, no matter what you want to do."
You can learn more about Fontbonne's Peace Corps Prep Program on our website. Students interested in applying should schedule a meeting with Corinne Mason at cmason@fontbonne.edu.