Uncovering St. Louis, a Pilot Career Development Program for Humanities Students
This summer, Fontbonne Humanities students participated in a grant-funded professional development opportunity to explore careers in their field and engage in a shared internship to do historical research at a historic site. We spoke with Dr. Corinne Mason, Chair of the Humanities Department, to learn more about this program.
Why did you start this program?
Over my time at Fontbonne, I've noticed that many of my students who enjoy humanities fields feel like their only career options are in law or teaching. I wanted to introduce them to people in other fields–for example, careers in advancement and development, museums, libraries, cultural tourism, and historical societies–and also to help them develop connections and confidence in interacting with professionals in this field. Each afternoon, we also worked together as a group to undertake research to assist the Ulysses S. Grant site better understand who Grant's neighbors were in the 1870s.
What does a career path in public history look like for those that do not know what that is?
As I think many of our speakers emphasized, there is no one path. The key is to develop relationships and experiences, especially before graduation, that allow students to pivot between a variety of options after graduation.
Who participated?
Four students — Daniel Bauer, Sky Castilleja, Maria Cerda, and Jakayla Ray–were sponsored by the Fontbonne Community Connection (FCC). Each student received a stipend to participate. One 2020 graduate seeking a career change, Jesse McClanahan, also participated.
We had a wide variety of professionals join us to talk, including alumni Mary Maxfield (2010), Austin Skinner (2009), Gina Siebe (1981), and Fannie Jacobs (2018), about their careers. We also had guests from the Daniel Boone House, Kemper Art Museum, Lewis & Clark Boat House, Field House Museum, the St. Louis Shakespeare Festival, St. Louis County Library, National Building Arts Center, Steedman Architectural Library, Dred Scott Heritage Foundation, Missouri History Museum, Historic Florissant, Gateway Arch National Park, Ulysses S. Grant National Historic Site, and the National Museum of Transportation. Each professional shared their stories and gave advice to the students.
Why is networking in this field so important? 
One of the main reasons is that there are so many more options than most folks realize. Although there are many options to work in this field in St. Louis, it is also a small world where many people know one another, and it can be very helpful to make connections early on. It helps to grasp the diversity of the field.
What are some lesser-known careers that one could pursue? 
Besides museums and libraries, where we focused a fair amount, we spoke with professionals in advancement, development, and grant writing, which is probably the field my students knew least. Austin Skinner (Shakespeare Festival) and Amanda Murphy (National Transportation Museum) emphasized that there are many positions and opportunities for growth in their field, one that is particularly accessible to new graduates.
Can you tell us about the historical research performed by the group for the Ulysses S. Grant National Historic Site?
I have long partnered with the Ulysses S. Grant National Historic site staff on various projects, and they were eager to help with this project. Ranger Nick Sacco developed the idea that we research the names on an 1878 plat map of the area around the park so that the park may develop a better understanding of the neighborhood at that time. It was great for students to get to do primary source research — even when that meant we hit dead ends and frustration as we struggled to find Grant's neighbors in historical records because this is how research works in the real world, too. It was good because, in this case, the students didn't have to complete a specific paper.
I hope to do something like this again in the future, possibly in conjunction with other colleges in St. Louis, to broaden our connections.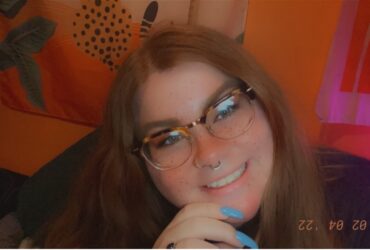 Making Connections and Uncovering History
In learning about this opportunity, we wanted to hear from the students that participated. We spoke with Sky Castilleja, class of 2024, a double major in history and communications. Sky is a first-generation college student from Sullivan, Missouri.
What is unique about Fontbonne's Humanities department?
I've learned so much already during my time at Fontbonne. All the humanities professors and staff I have taken classes with are amazing professors who genuinely care about their students. There are so many fun things to learn in many different areas. My professors make learning fun. Fontbonne has given me an excellent education in the two years I have been here, and I am excited to finish my bachelors here! I love the professors and the community.
Through Fontbonne and the help of my mentors and professors on campus, I have gotten a job at the Ulysses S. Grant National Historic Site as a National Park Guide and earned an academic achievement in the History department. 
What research did you do in this program?
The research we did was about the neighborhood and the neighbors of White Haven. One of the other students discovered a plantation school that none of the park rangers knew about, we made family trees of all the nearby neighbors, and when we had finished our research. We are planning to maybe continue this research in one of Dr. Mason's classes this fall!
What was your experience in this summer program?
The Uncovering St. Louis program we did with Dr. Mason was amazing. We learned primary resource analysis skills and got to be firsthand immersed in the local historic communities. We did professional development and met many amazing people from around our community, from librarians to park rangers and lawyers. It was truly an educational and memorable experience.
My career goals are to work for the Park Service or go into a career doing museum work. I wanted to do this program to meet park rangers and learn more about the St. Louis area; I am not from St. Louis and honestly don't know much about its history. Because of this program, I not only met my future coworkers and made plenty of connections I am on track to accomplish my overall career goals.