Ushered in by welcome week, the fall semester is underway at Fontbonne University. The Fontbonne Expo stands out among the many events held during the first week of classes, as a space where students learn the ins and outs of student engagement and services at Fontbonne.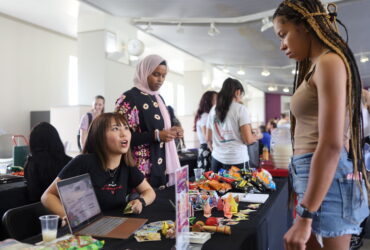 This year's Expo featured a diverse lineup of student interest clubs and organizations as well as essential and supportive student services. At Fontbonne, we want every student to succeed and find their community, that's why we hold The Expo every year. The Expo serves to introduce first-year and returning students to opportunities to connect and grow in the Fontbonne community.  
"The Expo gives you exposure to organizations and much needed support," said Brandon Schmiedeskamp, Fontbonne junior. "First-year students might be lost without it." 
Second-year student, Chanel Foster signed up for five organizations at this year's Expo. Foster recently moved off-campus but wanted to remain deeply connected to Fontbonne's engaged community "It's important to get to know new students and be involved in as many clubs as possible." Foster said. 
She also believes the organizations and clubs at The Expo are a force for progress at Fontbonne.  "If you want to change things in an institution, you need to be involved with the organizations that have a say-so." Foster added. 
Fontbonne is home to more than 20 clubs and organizations. Some of the clubs at the Expo included: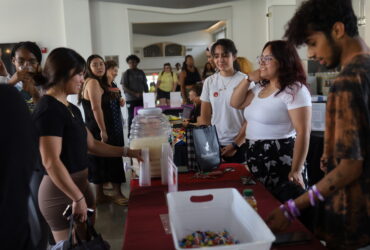 The Social Work Club: An academic club affiliated with the Social Work Department. The Social Work Club aims to create fun and engaging ways to increase awareness of the field of study. This semester, the Social Work Club will host reflection circles and will launch the first on-campus student book club at Fontbonne. Membership is open to Social Work majors. 
Fontbonne International Student Alliance (FISA): This student organization aims to promote Intercultural learning between international and domestic students, ease the transition for international students into life in America, and provide opportunities to network and connect with the community. This semester, FISA will be hosting its annual International Bazaar and a trip to Eckert Farms. FISA is open to all members of the community. 
Association of Latin American Students (ALAS): This student organization is focused on creating a self and welcoming community for Hispanic and Latinx students at Fontbonne. They work to provide support for Hispanic and Latinx students as well as educate the greater Fontbonne community about the history, hardship and accomplishment of Latinx people. ALAS will be organizing an Ofrenda for Día de los Muertos where members of the Fontbonne community may remember their loved ones who have passed. The club is welcome to all who want to learn about the Latinx/Hispanic community. 
Psych Club: This organization works to provide mental health and self-care support for Fontbonne community. The club tries to make sure these needs are met by hosting fun events on campus for all students. The Psych club is affiliated with the Psychology major. 
The Black Student Union (BSU): This student organization aims to promote in the inclusion of black students, create community and connection for incoming students who might feel out of place and educate the wider Fontbonne. BSU has several events planned for the school year including some games from the popular show Wildin' Out. The organization welcomes all who want to learn about the Black/African American community. 
The National Student Speech Language Hearing Association (NSSLHA): This academic student organization for pre-professionals studying communication sciences and disorders is recognized by the American Speech-Language-Hearing Association (ASHA). The organization helps students with resume building, networking and finding a mentor. NSSLHA is open to students with majors in the Communication Disorders and Deaf Education Department. 
Math and Computer Science Club: The Math and Computer Science club is an academic organization seeking to foster fellowship, professional and academic growth among students interested in technology and mathematics. The club helps with resume building, networking and prioritizes giving student's the resources to build a professional profile in pursuit of rewarding internships. The club hosts an annual Pi(e) Day event on March 14.  
Other clubs included the Sexuality and Gender Alliance (SAGA), the Student Nurses Association, the newly formed Peer Educators Club and Honor Societies such as Omicron Delta Kappa, Telos Honors Program, and more.  
The Expo also serves to introduce first-year students to essential and support student services that will serve as important resources throughout their time at Fontbonne.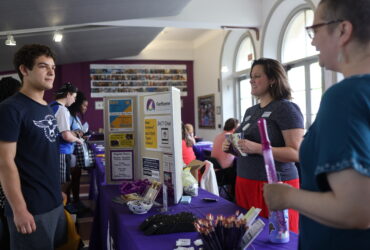 Some essential and support student services at the Expo included:
The Library: The Jack C. Taylor Library is home to countless academic and writing resources including physical and digital catalogs, research guides and citing sources.  
Multicultural Affairs (MCA): MCA's mission is to cultivate and affirm the value of diversity, equity, and inclusion by developing an inclusive community where all students can thrive. The office advises several student organizations, promotes cultural awareness through multicultural programming, and encourages dialogue around issues of social justice. 
The LACE Center: The LACE (Leadership and Community Engagement) Center is a place for students to connect with co-curricular activities and leadership opportunities. Housed on the 4th floor of Medaille Hall, LACE is the home to four key departments: Service and Spirituality, Multicultural Affairs, Orientation and Student Engagement, and Residential Life. 
Learn about more ways students can get involved at Fontbonne University