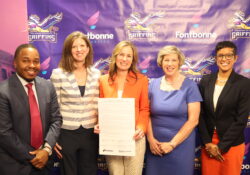 Fontbonne University has announced a new community partnership agreement with Big Brothers Big Sisters of Eastern Missouri (BBBSEMO) to provide $4,000 Community Partnership Scholarships for BBBSEMO students who enroll at Fontbonne University and meet other criteria. The official agreement was signed at Fontbonne on August 29, 2023 and goes into effect for full-time undergraduate students beginning with the 2023-24 academic year. 
The partnership between Fontbonne and BBBSEMO will help provide equitable access to quality education to promising students who are active participants in BBBSEMO and fulfill Fontbonne's mission of "providing transformative education and inspiring students to become global citizens who think critically and act ethically to create a more just world." 
BBBSEMO students and their families also will benefit from financial aid/FAFSA workshops provided by Fontbonne, among other measures. 
"Fontbonne is committed to establishing and supporting partnership relationships that expose more students to new opportunities and pathways to achieve their goals," said Quinton Clay, vice president for enrollment management, marketing and communications. "Higher education is one of the best pathways."  
In addition to consistently ranking as a Best Value in the Midwest by US News & World Report, Fontbonne also is recognized by the publication for Social Mobility, which refers to success in enrolling and graduating large proportions of disadvantaged students awarded Pell Grants. These rankings are a testament to Fontbonne's commitment to being an affordable institution that maintains a low net cost, generous scholarships and need-based financial aid. 
"BBBSEMO hopes the partnership will inspire its alumni to achieve post-secondary success, knowing they have support from BBBSEMO and Fontbonne University," said Eboni Buckels, director of alumni mentoring at BBBSEMO. "Through this partnership we continue our mission to "Be There," providing mentorship, coaching and valuable relationships that will make an impact on their lives and their future."  
Shared Commitment to Mentoring 
BBBSEMO is the local chapter of Big Brothers Big Sisters of America, a nationwide organization with a mission to create and support mentoring relationships that ignite the power and promise of youth. BBBSEMO aims to improve outcomes for young people in Eastern Missouri by building a web of developmental relationships between youth and adults at home, in schools and within communities to combat adversities created by economic inequities and systemic racism.  
"For more than a century, Big Brothers Big Sisters of Southeastern Missouri (BBBSEMO) and Fontbonne University have each admirably provided critical support and guidance to youth facing a range of circumstances and hardships," Clay said. "The close collaboration between two caring organizations centers holistic support for young people through a transformative partnership."  
Fontbonne University has a strong tradition of forming relationships with like-minded organizations and institutions that are committed to serving students from backgrounds that are traditionally underrepresented on college campuses. This includes students of color, students from low-income backgrounds and students who would be the first in their families to obtain a bachelor's degree.    
As a small university, Fontbonne embraces a student-centered academic environment, where every student is known by name and one-on-one counseling and advising help every student identify the best areas of study based on their individual interests, passions and career goals.  
About Fontbonne University 
Fontbonne University is a private, Catholic liberal arts university located in Clayton (suburban St. Louis), Missouri, committed to a transformative education and inspiring students to become global citizens who think critically and act ethically to create a more just world. The university, which is celebrating its Centennial, was founded in 1923 by the Sisters of St. Joseph of Carondelet. For more information, visit www.fontbonne.edu.