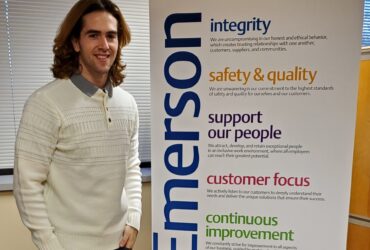 For aspiring cybersecurity and computer science professionals, graduating from an ABET-accredited collegiate program is an important step to a successful career.
ABET is the global accreditor of college and university programs in applied and natural science, computing, engineering and engineering technology. ABET accreditation assures a collegiate program has met standards essential to produce graduates who are ready to enter the critical STEM fields.
Fontbonne University received ABET accreditation for its bachelor's degree program in cybersecurity in 2019. The program became the seventh in the world to receive this prestigious designation. The university's bachelor's degree program in computer science also received accreditation in 2018, becoming one of only two ABET-accredited programs in Missouri.
Graduates from Fontbonne's ABET-accredited programs have a solid educational foundation and are capable of leading the way in innovation and emerging technologies as well as anticipating the needs of the public. It also helps students establish eligibility for many federal student loans, grants and scholarships. Additionally, because many employers require graduation from an ABET-accredited program, Fontbonne students graduate with more employment opportunities.
For instance, Alex Beckett, who earned a bachelor's degree in cybersecurity from Fontbonne in May 2020, secured a position with Emerson before he graduated. He currently splits his time between the company's Endpoint Security Team and its Threat & Vulnerability Management Team to identify, report and remediate any cybersecurity vulnerabilities.
"Fontbonne's cybersecurity program gave me a deep knowledge of vulnerabilities and exploits that are commonly seen within information systems," Beckett said. "If you choose Fontbonne, you can be sure you are receiving a quality and comprehensive education from passionate faculty who are extensively knowledgeable in the field and care about students' advancement."
Fontbonne is a leader in STEM and technology-related educational initiatives. Both its bachelor's degree programs in computer science and cybersecurity boast a 100 percent post-graduate job placement rate. They derive much of their strength from an advisory board made up of top tech leaders from major St. Louis companies such as Boeing, Emerson, Enterprise and MasterCard, who actively guide the program's curriculum and ensure it is up-to-date with current business needs.
"Choosing Fontbonne is one of the best decisions I have made for myself in my life," Beckett said. "I strongly recommend that prospective students who want to pursue computer science or cybersecurity-related careers choose Fontbonne."
For more information about Fontbonne's bachelor's degree programs in computer science and cybersecurity, visit https://bit.ly/2Iv6838.