Be More.
What does it mean to "be more?"
At Fontbonne, it means faculty who engage students to think beyond themselves. To think of their role in the world and how they can improve it. It means looking at community service as an integral part of the college experience — and beyond. And it means students and alumni shaped by a set of values that provides a life-long touchstone.
Catch the Fire at Fontbonne
Save
Save
Save
Save
Save
Save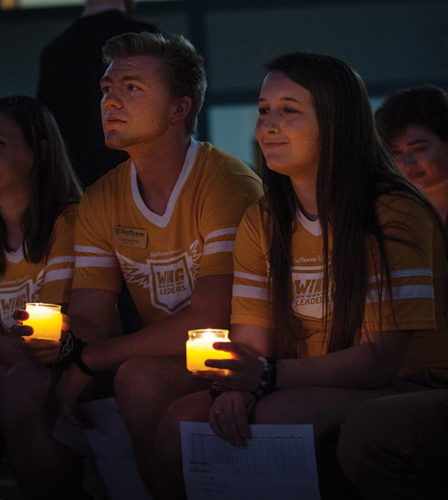 Those who have spent even a small amount of time on Fontbonne University's campus understand the bond shared between the university and its founders and sponsors, the Sisters of St. Joseph of Carondelet. The sisters made Fontbonne a reality, and reminders of their relationship with the university pop up everywhere — at the bottom of letterhead, in artwork on campus and even etched into the cornerstone of Ryan Hall. But "founded and sponsored by the Sisters of St. Joseph of Carondelet" is more than a disclaimer. It's a badge of honor that the university wears proudly and shares with every student who walks through its halls.
As an institution, Fontbonne deeply values the history it inherited from the CSJs. As the times change and the number of sisters on campus dwindles, the university has established a number of traditions that help the campus community carry on the mission and passion of the compassionate, driven women who paved the way for so many, and whose legacy will continue to do so into the distant future.
Save
Save
Save
Save
Be More at Fontbonne
Campus Ministry

Fontbonne's department of campus ministry welcomes all students with open arms — no matter their faith background. Join us!

Service, Diversity & Social Justice

Learn more about service in St. Louis and around the world, diversity initiatives on campus, and other opportunities to learn more and be more. Get started!

Student Organizations

17 social organizations. 12 honors organizations. 9 academic organizations. Get involved!
Contact Us
Questions? Contact our Office of Admission: 314-889-1400 or 1-800-205-5862 | fbyou@fontbonne.edu