Be More.
What does it mean to "be more?"
At Fontbonne, it means faculty who engage students to think beyond themselves. To think of their role in the world and how they can improve it. It means looking at community service as an integral part of the college experience — and beyond. And it means students and alumni shaped by a set of values that provides a life-long touchstone.
Fontbonne Day Celebrates 10-Year Anniversary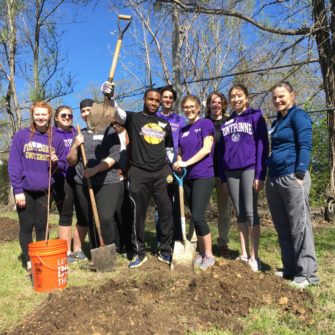 Fontbonne Day, Fontbonne University's annual day of service in the St. Louis community, celebrated its 10-year anniversary on Friday, April 7, 2017.
As part of Fontbonne Day, the campus shuts down in order to address some of the needs of St. Louis through a variety of direct service opportunities. Small groups of students, faculty and staff volunteer throughout the city and address some of the needs of St. Louis through a variety of direct service opportunities.
Read the feature in the St. Louis Review.
After the service projects are completed, volunteers come back to campus to reflect on their experiences and share with the Fontbonne community.
"Close to 300 people registered to participate in our 10th Fontbonne Day," said Mary Beth Gallagher, Fontbonne assistant to the president for mission integration. "It's a grand tradition in the spirit of our founders, the Sisters of St. Joseph of Carondelet. We take a day out of our usual work routine in order to serve St. Louis. Our vision is, by serving, to become a sister or brother to every human person and to all of God's creation."
Service opportunities on Fontbonne Day can range from animal shelters, food pantries, community gardens, assisted living facilities and more. This experience leaves a lasting impression on those who participate. "It was fun to work with a community garden and learn how they benefit the surrounding community," said Fontbonne senior, DeMarcus Davis. "The residence life team helped plant asparagus and cherry trees that can produce for 20 years."
Learn more about Fontbonne Day.
Be More at Fontbonne
Campus Ministry

Fontbonne's department of campus ministry welcomes all students with open arms — no matter their faith background. Join us!

Service, Diversity & Social Justice

Learn more about service in St. Louis and around the world, diversity initiatives on campus, and other opportunities to learn more and be more. Get started!

Student Organizations

17 social organizations. 12 honors organizations. 9 academic organizations. Get involved!
Contact Us
Questions? Contact our Office of Admission: 314-889-1400 or 1-800-205-5862 | fbyou@fontbonne.edu