Learn More.
What does it mean to "learn more?"
At Fontbonne, it means small classes where professors engage, challenge — and support — you. It means a focus on internships and other real-world opportunities that provide invaluable experience. And it means a student body that thinks of a college education as a view to the world.
Real World Experience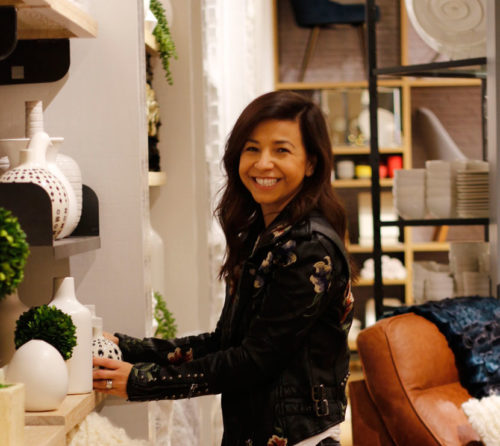 During the summer of 2016, Lourdes Davis, a Fontbonne University fashion merchandising major, accepted a position as a visual merchandising intern at West Elm, a trendy, national home store with a location in the St. Louis Galleria. Her experience gave her professional experience, confidence and the opportunity to apply her Fontbonne knowledge to a real world setting.
"I had a great experience during my internship, and I was really happy that I was able to utilize what I learned in school at West Elm. I was able to put into practice the principles and elements of design knowledge. It's very important to understand these in order to be successful when styling a footprint at West Elm. Each footprint relates to each other and appeals to the costumer, motivating them to shop and waking up their senses as they walk through the West Elm store. I learned that when styling at West Elm, it's important to apply different types of textures and different sizes of merchandise, and to make sure there is balance and cohesive color. I also learned how Fontbonne's ethic is reflected at work. We had to meet deadlines for our displays, and I enjoyed scheduling different tasks to be completed, just as I do on a regular basis with schoolwork at Fontbonne.
This internship reaffirmed the importance of having a good positive attitude when working with different types of personalities. Recognizing people's strengths and weaknesses, along with my own, allowed me to successfully design and decorate comfortably in small group settings. I also witnessed the value of volunteering; offering to take on a variety of responsibilities improved my ability to succeed in different jobs, making me a more competent employee.
The visual merchandising position is definitely a lot of physical work — more than I had expected. I didn't expect to be such a significant part of furniture shopping for the fall season, which was really fun. Finally, I didn't expect to have a lot of freedom when styling certain areas, and I was intimidated at first, but I was so passionate that soon, I gained confidence. I felt more comfortable as time went on and my confidence grew every day with each task that I was assigned. I now feel that I can really do anything that I set my mind to and don't think that I'll feel overwhelmed when starting a new profession in the future.
Even though I have worked for so many years now, working at West Elm has definitely prepared me to work in my future field. I plan on applying all the knowledge that I have learned though my years at Fontbonne and over this past summer internship toward my future position, whatever it may be. Overall I really enjoyed this experience at West Elm as a visual merchandising intern and would like to continue with it, but I also would like to try different areas of my career focus in order to become more knowledgeable in the industry. This was such a great learning experience for me, and I am excited for the next step in my career."
Learn more about studying fashion merchandising at Fontbonne.
Save
Save
Save
Save
Save
Save
Learn More at Fontbonne
Internships

Education is more than classrooms and tests, and Fontbonne encourages you to experience your area of study beyond the walls of campus. Learn more.

Career Outcomes

After graduation, Griffins are out in the world, working and continuing their education. See the stats. Learn more.

Academic Resources

Everything you need to know about academics at Fontbonne, all in one place. Learn more.
Contact Us
Questions? Contact our Office of Admission: 314-889-1400 or 1-800-205-5862 | fbyou@fontbonne.edu