Learn More.
What does it mean to "learn more?"
At Fontbonne, it means small classes where professors engage, challenge — and support — you. It means a focus on internships and other real-world opportunities that provide invaluable experience. And it means a student body that thinks of a college education as a view to the world.
The Ultimate Advocate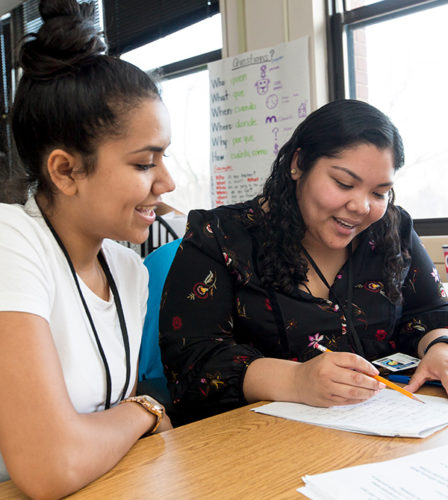 More than 7,500 immigrants and refugees from 80 different countries annually receive services from the International Institute St. Louis, a welcoming center for new Americans. Of the immigrants who arrive in St. Louis each year, many leave war, violence or poverty behind. Some are documented residents of their new home, some undocumented, adding an additional layer of complexity, fear and stigma. All must assimilate to a new way of life, often utterly different than the one they left behind. Simple tasks, like buying milk and bread, become enormous hurdles when you don't understand the language, the currency or the public transportation system. Education — learning within an English-language school system — becomes even harder.
The immigration debate in the United States has become a heated one, and talk of walls and bans has become commonplace. For the Sisters of St. Joseph, Fontbonne's founders and sponsors, serving the dear neighbor — whoever that is, wherever she's from — is far less complicated, however, than the legislative debates churning around us. With a nod to the sisters, one Fontbonne alumna, driven in part by her Fontbonne education, has made St. Louis' immigrant population her priority.
Learn More at Fontbonne
Internships

Education is more than classrooms and tests, and Fontbonne encourages you to experience your area of study beyond the walls of campus. Learn more.

Career Outcomes

After graduation, Griffins are out in the world, working and continuing their education. See the stats. Learn more.

Academic Resources

Everything you need to know about academics at Fontbonne, all in one place. Learn more.
Contact Us
Questions? Contact our Office of Admission: 314-889-1400 or 1-800-205-5862 | fbyou@fontbonne.edu