Learn More.
What does it mean to "learn more?"
At Fontbonne, it means small classes where professors engage, challenge — and support — you. It means a focus on internships and other real-world opportunities that provide invaluable experience. And it means a student body that thinks of a college education as a view to the world.
Life-Changing Lessons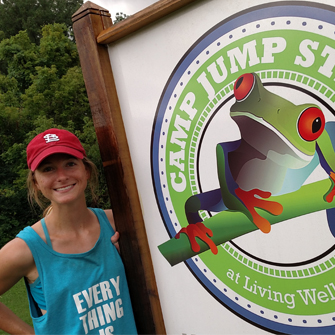 Health education and promotion major Liz Flowers found her passion during a summer internship experience at Camp Jump Start, a camp for kids who are looking to transform themselves physically, emotionally and socially. "I was a counselor and aerobics instructor," Flowers said. "I had a shared responsibility of around 80 campers and I was in charge of managing the serving line for all meals once a week and taught aerobics classes five days a week."
Flowers credits her courses here at Fontbonne with preparing her to succeed in her role as counselor. "My courses with nutrition, psychology and counseling really helped me to be confident when I interacted with campers," she said. "I always felt prepared to answer any questions they had."
While Flowers has countless memories from the camp that make her smile, her favorite part of the internship was witnessing the campers' transformations, inside and out. "Seeing the growth in confidence and self-esteem from the campers was the best part of the whole experience," she recalled, "Especially their reactions to the weight loss they achieved by the end of camp."
Flowers may have been the one who arrived at camp ready to teach, but in the end, it was the campers who taught her a lot about herself. "It was my job to promote a positive self-image and healthy lifestyle to the campers, along with teaching them helpful ways of dealing with their emotional or social issues," she said. "But I learned a lot about my own strengths and abilities, especially when it came to helping the campers work through their emotions. Crying people used to make me want to flee the scene, but camp taught be how to be comfortable with helping others face their emotions."
Camp Jump Start left a lasting impression on Flowers. Likewise, Flowers impressed them. She has accepted a full-time position with them.
Learn more about health education and promotion at Fontbonne.
Save
Save
Save
Save
Learn More at Fontbonne
Internships

Education is more than classrooms and tests, and Fontbonne encourages you to experience your area of study beyond the walls of campus. Learn more.

Career Outcomes

After graduation, Griffins are out in the world, working and continuing their education. See the stats. Learn more.

Academic Resources

Everything you need to know about academics at Fontbonne, all in one place. Learn more.
Contact Us
Questions? Contact our Office of Admission: 314-889-1400 or 1-800-205-5862 | fbyou@fontbonne.edu