Fashion Merchandising Major
The Fashion Merchandising program provides a strong foundation of content-rich courses that include technical and creative knowledge designed to enhance students' ethical and global perspectives of the fashion business. Industry tours, internships, and study abroad opportunities support the faculty's commitment to provide students with industry exposure, internship possibilities, career options, and networking potential. With a Bachelor of Science in Fashion Merchandising, graduates will be equipped to compete in a wide variety of career options in ever-changing global fashion-businesses.
Meet Elaine

Elaine is experiencing new adventures and opportunities and getting a balanced education.

Learn more.

Name: Elaine
Major: Fashion Merchandising

"What I like about the program is that you get to learn the business aspects to the fashion world in addition to exploring the creative side of things. We get the best of both worlds, which gives me more opportunities when I start looking for a job.

In May, I was lucky enough to go on a trip to New York with a class, and it opened my eyes to a lot of opportunities that I didn't even know existed. Going on the trip definitely helped me realize what type of company I might want to work for and the type of job title I would like to have. I'm looking forward to growing and learning through real experiences in life through internships, jobs or from my professors in class.

One last thing I'd like to add is that the professors are absolutely amazing in the program.  They are great teachers and also very good advisors who you can talk to. They do their jobs very well and should definitely get a shout out for that."
Fashion Merchandising Program Highlights
Small classes and dedicated professors
Personal connections/mentoring
Insight from our professional advisory board
Use of YuniquePLM — professional, product lifestyle management software (read more below)
Involvement in fashion-related community events
Field-based professional learning experiences at on-site locations
Fashion study tours: Los Angeles and New York City
Professional shadowing opportunities
Fashion at Fontbonne
"Yunique" Business Knowledge

In a business setting, fashion merchandising professionals use product lifestyle management software to track products from their inception to their production to their final sale. Fontbonne fashion merchandising students have the unique opportunity to use one of these software programs — Gerber Technology's YuniquePLM — even before they head out into the real world. This software is one of the leading PLM technologies on the market — and Fontbonne students are some of the only ones in the country to have access to it long before they accept their first jobs.

Design on Display

The fashion merchandising program at Fontbonne University controls the design of two large display windows located in the main entryway of Anheuser-Busch Hall. This spring, an independent study class dressed the windows, inspired by a Marimekko textile and print exhibit at the St. Louis Art Museum. Ashley Kemper, Bridget Scheetz and Ali Waters, all senior fashion merchandising majors, created the bold, black and white display in the photo shown above. The windows are updated several times throughout each semester.

Fashion Firsthand

Fashion merchandising faculty coordinate annual study tours that provide students the opportunity to learn about the industry firsthand from practitioners in the field. Leading students on excursions to Dallas, New York and Los Angeles, faculty arrange opportunities for students to visit a variety of companies ranging from those in product development and marketing, to brick-and-mortar and e-commerce retailing. These opportunities, like a visit to Sean Jean in New York, pictured above, allow students to better contextualize what they learn in the classroom, while networking with industry professionals and getting a feel for the breadth of jobs that await them upon graduation.
In-Field Learning Experiences and Awards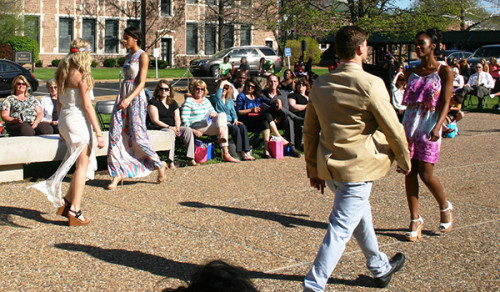 Student-Produced Fashion Show
Students Awarded Competitive Scholarships from FGI St. Louis
Study Abroad Opportunities: London, Italy, France, and more
Student Leadership Opportunities: Fontbonne Ambassador, Fontbonne Blogger
Student Organizations: ODK, FAB, SGA, Enactus
St. Louis Fashion Week
St. Louis Art & Culture: Exhibits at St. Louis Art Museum, Sheldon Art Gallery, Fontbonne Fine Arts Gallery
See photos of these and more fashion merchandising projects, events and opportunities.
Save
Save
Save
Save
Recent Internships
Chanel, NYC (Mgmt.)
Soft Surroundings, St. Louis (Technical Design)
Nordstrom, St. Louis (Mgmt.)
Michael Kors, NYC (Retail Development)
Hammer and Hand, St. Louis (Social Media/Marketing)
St. Louis Fashion Week
Fashion Merchandising Career Opportunities
Fontbonne University's Fashion Merchandising Graduate Successes
Divisional Merchandise Manager, Nordstrom
Men's Brand Manager, Saks Fifth Avenue
Merchandise Manager, Rung
Assistant Department Manager, Nordstrom Rack
Allocations Analyst, Charlotte Ruse, Corporate Headquarters
Assistant to Buyer, Caleres
Merchandiser, Aquarius, Ltd.
Sr. Product Developer, Build-a-Bear
Account Executive, Nanette Lepore
You May Also Be Interested In
Contact Us
Questions? Contact our Office of Admission: 314-889-1400 or 1-800-205-5862 | fbyou@fontbonne.edu