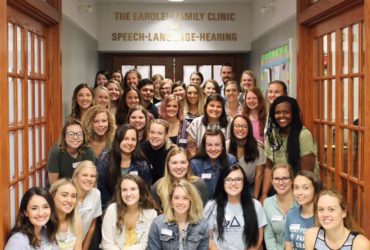 Speech-language pathology (SLP) is one of the fastest growing industries, and Fontbonne University's Master of Science in Speech-Language Pathology program is nationally recognized in the field. The program has decades of 100% placement for graduates, and its pass rate on the national exam is also 100%. This year, the university enrolled its largest graduate SLP class in history, with 40 students now preparing to graduate in 2021 and enter the workforce.
Thirty-two states have a chronic shortage of SLPs, making this a great career choice. "The population in need is increasing," said Dr. Gale Rice, dean of the College of Education and Allied Health Professions. "SLPs now serve patients at every age, from cradle to grave." Graduates of Fontbonne's SLP program embark on varied career paths, working within special school districts, schools for the deaf, autism agencies, hospitals, rehab centers and more.
Fontbonne's SLP students can choose from two unique emphasis tracks: working with children who are deaf or hard-of-hearing or working with adults with neurogenic communication disorders. Many students complete practicum hours in The Eardley Family Clinic for Speech, Language and Hearing, which offers free speech and language evaluations and therapy for the entire spectrum of communication disorders, serving individuals between the ages of 2 and 98. The clinic provides early intervention and family-centered therapy that teaches family members how to communicate with their loved one and how to help them continue to work toward their therapy goals outside the clinic. "We teach students how to empower patients and their families," said Dr. Carmen Russell, chair of Fontbonne's department of communication disorders and deaf education.
Students also help run a variety of therapy camps, including:
Aphasia Boot Camp, an intensive six-week therapy boot camp for adults with aphasia, a neurogenic communication disorder caused by stroke, brain injuries and similar ailments.
AACS (Alternative and Augmentative Communication) Camp, a weekend theater camp for children with communication challenges and their families that combines fun activities for children and their siblings and talks on the latest research and treatment for their parents.
GRACE (Group Rehabilitation for Aphasia and Communication Effectiveness), a group therapy program for adults that tackles conversation and resocialization.
Camp F.I.R.E., a weeklong summer camp that promotes literacy skills for children with hearing loss.
Camp G.O.A.L.S., a three-week summer camp that helps children maintain their therapy goals while they engage in fun and interactive sports, theater or science activities.
For SLP students completing practicum hours outside of Fontbonne's clinic, St. Louis is a great location as the city offers a variety of clinical placement opportunities. "In other programs, students have to leave to do their practicum, but here they can continue receiving the high level of support Fontbonne and the Fontbonne community offers and communicate regularly with their SLP professors," Dr. Rice said.
For more information, please call 314-889-1407 or email speechclinic@fontbonne.edu.