Social Work
The Fontbonne social work program is newly accredited by the Council on Social Work Education and utilizes the most current knowledge, values and skills in social work education and professional practice.
The program's generalist practice emphasis prepares students to become ethical professionals with the knowledge and skills to support social and economic justice as they serve and strengthen individuals, families and communities. The social work program combines classroom experiences, designed to lay the foundation for a lifetime of knowledge, with field work, opportunities for student to apply that knowledge in a real world environment.
Social Work Program Highlights
Unique coursework grounded in Fontbonne's Catholic heritage and the benefit of spirituality and religion in practice
A campus-wide focus on "serving the dear neighbor without distinction"
New program developed with the latest methods, theory and information
Combination of classroom and field education
Three categories of coursework: introductory, core and professional practice
CERTIFICATES: The social work department offers a variety of certificate programs that can enrich the undergraduate major or provide additional skills and credentials for seasoned clinical professionals.
Faculty are social workers and practicing professionals
Preparation for LBSW or LBSW-IP exams or for graduate school with advanced standing
Accredited by the Council on Social Work Education
Student selected field placements through more than 450 field placement agencies
Receive advance standing in your chosen Master's of Social Work program – this can reduce the time needed to graduate!
Agreement with St. Louis University helps accelerate the completion of your MSW
Social Work Course Samples
Professional Synthesis of Generalist Social Work Practice

The purpose of this course is to synthesize all social work knowledge, skills, and values achieved in previous courses to professional practice behaviors. Students will assess achievement of knowledge and skills according to 10 social work practice competencies (program competencies) and 41 practice behaviors. A case study presentation will be used to demonstrate the use of social work knowledge and values in practice behaviors. The portfolio will include assignments and self evaluations completed in previous courses and will be used for student assessment during the program exit interviews. Additional course content includes application of NASW ethics to professional practice. Prerequisite: Junior and senior SWK majors

Research and Social Work Practice

This course focuses on the foundation content in research and evaluation methods and designs that may be utilized
by generalist practice social workers to evaluate practice and programs as well as advancing practice knowledge.
The course will give attention to students developing understanding of the ethics of social work research and
evaluation, and the special issues in conducting research and evaluations with culturally diverse and at risk populations. Students will become familiar with basic research and evaluation concepts and methodology.
Prerequisite: MTH 115.

Social and Economic Justice

This course provides an introduction to central debates in the sociological literature on diverse groups. Topics
include power and inequality, prejudice and discrimination, social justice, and social policy.
Recent Internships
24th Circuit Children's Division
Adult Day Care
Crime Victim Advocacy
Bayless School
Behavior Solutions, Inc.
BJC Hospice
Bootheel Counseling Services and Rural Health Clinic
Catholic Charities
Child Health and Advocacy Center
City Garden Project
Decision Point Counseling
Doer Center for Social Justice Education and Research
Epworth Children and Family Services
Fresnius  Medical Services
Kirkwood Highschool
Illinois Center for Autism
Legal Advocates
Lutheran Family And Senior Services
NASW Missouri Chapter
Nazareth Living Center
Memory Care Solutions
Mental Health America East MO
St. Mary's Hospital
St. Louis Children's Hospital
St. Louis County Department of Human Services
St. Louis University Student Health and Counseling
Veteran's Home and Services
Victim Services of St. Louis County
In-Field Learning
Fall Semester trip to Washington D.C: Legislative Advocacy Federal Government
Spring Semester trip to Jefferson City MO: Legislative Advocacy State Government
Save
Save
Fontbonne University's Social Work Graduate Successes
Carolyn Compton '14: Neighborhood Advocate for the Central West End Neighborhood Security Initiative
Samantha Gildehaus '15: Case Management Counselor, Crisis Nursery, Washington, Mo.
Treniece King '14: Social Worker, St. Louis Special School District
Brandi Palmisano '15: Social Worker, Decision Point Counseling, Inc.
Doreen Colenberg '15: Social Worker, Places for People
Holly Kennedy '15: Social Worker, Fox School District
Destiny Poertner '14: Social Worker, Division of Family Services
Social Work Career Opportunities
You may also be interested in:
Continuing Education Program
If you're already a credentialed professional, we also offer advanced skills training in Expressive Arts and Integrative Therapy. Learn more about this 30-hour continuing education program.
National Healthcare Decision-Making Day Featured Fontbonne Social Work Connection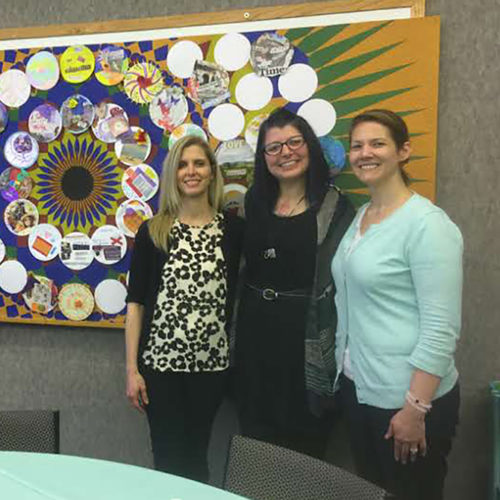 The Fontbonne University social work department was a co-sponsor of the National Healthcare Decision-Making Day open house and expressive arts workshop at St. Luke's Hospital in Chesterfield April 18, 2017.
Contact Us
Questions? Contact our Office of Admission: 314-889-1400 or 1-800-205-5862 | fbyou@fontbonne.edu