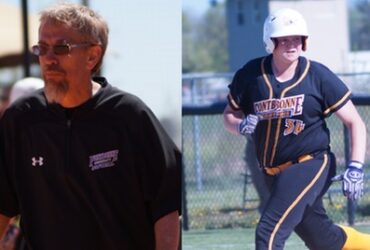 ST. LOUIS, Mo.—The St. Louis Intercollegiate Athletic Conference (SLIAC) announced its Hall of Fame Class for 2021 and Fontbonne will see former softball head coach Bill Rosner and softball player Danielle Glixman get inducted.
They'll join Andrew Fuiten, Ngonzi Mwanamwambwa Asinga, and Carlie Sanderude as part of the 2021 class.
This is another induction for Rosner and Danielle Glixman with them being inducted into the Fontbonne Hall of Fame a year ago.
Coach Rosner was at the helm of the Fontbonne softball program from 2009-16 where he amassed a 222-99 overall record. He's the all-time wins leader in program history and was a three-time SLIAC Coach of the Year.
He led the Griffins to six NCAA Tournament Appearances, along with six SLIAC Conference and Tournament Titles. He coached 26 SLIAC All-Conference selectees, four SLIAC Newcomers of the Year, two SLIAC Player of the Year, three SLIAC Pitcher of the Year, five SLIAC All-Tournament Most Valuable Players, 11 NFCA All-Region Players, and four NFCA All-Americans.
Danielle Glixman, meanwhile, appeared in 162 games from 2012-15 totaling 506 at-bats. She ranks first all-time at Fontbonne with 232 hits, a .458 average, 68 doubles, a .737 slugging percentage, and 172 RBI.
She ranks second in runs scored (136), homers (19), and fifth in triples (eight). In 2012, she was named the St. Louis Intercollegiate Athletic Conference (SLIAC) Newcomer of the Year and earned NFCA Midwest All-Region First Team honors.
She's a 3-time SLIAC First Team (2012, 2013, 2015) All-Conference selectee and been named to the NFCA All-American Third Team in 2013.
The duo will be inducted at the SLIAC Hall of Fame banquet on May 17th, 2022. They'll also be joined by last year's inductees which include former women's volleyball head coach Kim Kutis and former women's basketball head coach, Keith Quigley.
To view the entire SLIAC 2021 inductees visit HERE.