Hispanic Heritage Month has been celebrated in the U.S. for over 30 years. It is formally known as National Hispanic Heritage Month. The goal of this month is to celebrate the cultures and traditions of both the Hispanic and Latinx communities.
Hispanic refers to someone who is from, or a descendant of someone who is from, a Spanish-speaking country. The U.S. government first recognized the term Hispanic in the 1970s. Latino, Latina, or Latinx refers to a person from, or a descendant of someone from, a country in Latin America regardless of language. The word Latinx has been used since the 1990s. It is a gender-neutral alternative to Latino (male) and Latina (female).
This annual celebration was initially limited to a week in 1968. Representative Esteban Torres of California attempted to expand the holiday into a month-long celebration. He stated it would "allow our nation to properly observe and coordinate events and activities to celebrate Hispanic culture and achievement." In 1988 Senator Paul Simon of Illinois submitted a similar bill that did pass, successfully expanding the holiday into a month-long celebration. Since then, the month has been celebrated nationwide with festivals, art shows, community gatherings, and more.
Hispanic Heritage Month takes place from September 15 to October 15 every year. September 15 was chosen because of the multitude of celebrations happening in the Latin American community within these 30 days. The anniversary of the independence of Latin American countries of Costa Rica, El Salvador, Guatemala, Honduras, Nicaragua, Mexico and Chile. The Virgin Islands-Puerto Rico Friendship Day and Día de la Raza in Mexico. Día de la Raza recognizes "the mixed indigenous and European heritage of Mexico.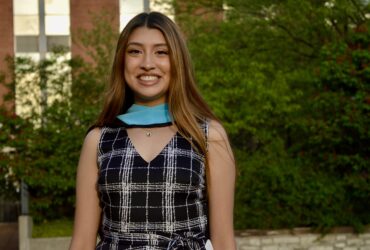 In learning about the beautiful history of this heritage month, we wanted to know what this time of year means to the Fontbonne Latinx community. We spoke with Maria (Mari) Torres, Class of 2020.
I identify as a Latina and Mexican American woman. I also identify as Chicana in some spaces because I do not speak Spanish. I love Hispanic/Latinx Heritage Month because of how ingrained my culture is into the U.S. It makes me feel incredibly proud to show up to my workspaces at Wash U and bring all of my culture with me.
If I could share one piece of insight, I would encourage non-Latinx people to understand that our culture is not a monolith. Our experiences are not all the same within this culture! Some people grew up like me in the Midwest, and others grew up outside the U.S. Our culture has beautiful variety in our skin tones and facial features. Some Latinx people are connected to religion, while others are not. Some of my family and friends LOVE Bad Bunny, but I prefer Tex-Mex music (shocker, you can love both, too!).
I think it is important to realize the many different experiences within this one culture. There have been people during my life that have often assumed that I am from Latin America. They are often surprised that my family has been in the U.S. for many generations and that I struggle with speaking Spanish. While these assumptions are accidental, I personally believe that it is a good reminder to remember the many stories represented during Hispanic/Latinx Heritage Month!"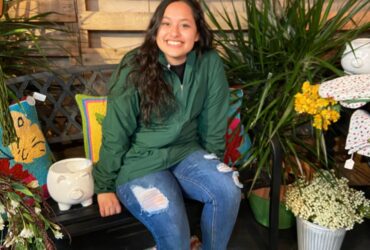 We also spoke with current student Perla Zaragoza, class of 2025. Perla has been working with Sierra McClellon Hulsey, Coordinator for Multicultural Programs, to refresh the Latinx Hispanic Union (LHU). LHU was a student group that focused on promoting the various Hispanic and Latino cultures in the U.S. and beyond.
When asked why she wanted to bring the student organization back to Fontbonne, Perla shared that "we want to bring LHU back to Fontbonne University to represent the Hispanic and Latinx community more. While we are not planning on calling it LHU anymore, our goals are still similar. We want to have the ability to learn about other Spanish-speaking countries and teach the Fontbonne community about our cultures and history. We want the ability to provide a support network for the Hispanic/Latino community on our campus. Our organization will represent the importance of "Culturas Unidas" and will be called the Association of Latin American Students (ALAS).
Our group strives to provide a community culture while educating the Fontbonne community about our culture and heritage. This organization is crucial because it establishes a community and support system for incoming freshmen with Latinx and Hispanic backgrounds. Ensuring the Latinx and Hispanic community feels welcomed and understood is also essential. We want to focus on creating an alliance for incoming students who may feel out of place; and engage in community development, entrepreneurship, and education. We will aim to create a space that nurtures and celebrates the different identities, stories and cultures within the Latinx/Hispanic umbrella."
To learn how to support the Association of Latin American Students, reach out to Sierra McClellon Hulsey, Coordinator for Multicultural Programs.