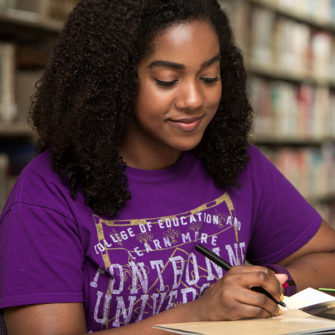 Fontbonne University has announced the Fontbonne Community College Commitment (FCCC), a new program intended to make the college enrollment process simpler, affordable and more transparent for community college students wishing to pursue a four-year degree.
Available to eligible students who have earned an associate's degree in any subject at any community college in the nation, the FCCC offers a flat-rate tuition of $7,500 per semester (or $15,000 per year). In comparison, the standard Fontbonne tuition rate is $12,990 per semester, or $25,980 per year. To further decrease tuition costs, students may apply state and federal grants as well as student loans.
With more than 20 articulation agreements with five community college systems in the St. Louis region, Fontbonne has a history of providing community college students a path to a high-quality, affordable private university experience. The FCCC represents an extension of that history and strives to strengthen the path to a four-year degree for those students who have already achieved so much at two-year institutions. Making the path to a bachelor's degree more accessible opens up a brighter future for eligible students: According to a 2016 analysis by the National Center for Education Statistics, individuals with a bachelor's degree have an employment rate of 88 percent, 11 percent above those with an associate's degree.
The FCCC is part of Fontbonne' larger mission to making higher education accessible and affordable to all. Another piece of that commitment is the Fontbonne Promise, announced in September 2017. Designed to make the dream of a debt-free, private college education a reality for low-income students, the Fontbonne Promise awards full tuition and fees for up to five years to 30 or more students who are first-time, first-year Missouri residents with an expected family contribution of $0 on the Free Application for Federal Student Aid.
"Fontbonne is committed to serving our neighbor without distinction and providing transformative educational experiences," said Joseph Havis, Fontbonne vice president for enrollment management. "We recognize the critical role our community colleges play in providing a valuable and affordable path to so many, including students taking their first steps out of high school and those looking to continue an education started years ago."
Learn more about the Fontbonne Community College Commitment.