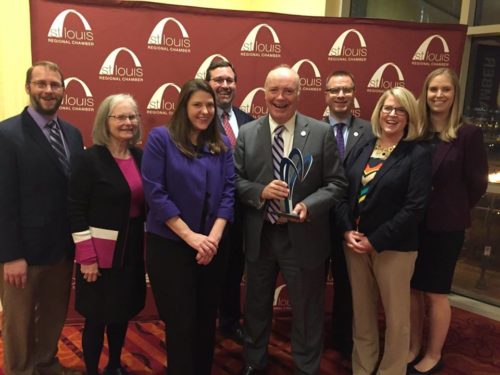 Fontbonne University was honored with the People's Choice Award at the 2018 Arcus Awards on Thurs., March 1.
The Arcus Awards are hosted by the St. Louis Regional Chamber and honor companies, organizations and institutions that demonstrate exceptional commitment to leading the St. Louis region's authentic economic strengths and championing a better tomorrow for the region. Winners in other categories were selected by a panel of independent judges, but the People's Choice category was determined by public online voting.
"We were honored to be nominated and equally thrilled to have shared this category with such deserving fellow nominees," said Fontbonne President J. Michael Pressimone. "This award is a testament to all of the Fontbonne community and the dedication to our mission and serving our students."
Learn more about the mission of Fontbonne University.