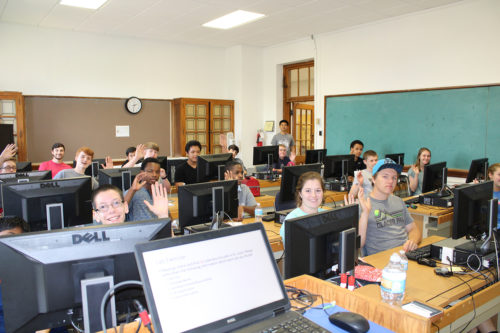 For two weeks this summer, 20 high school students from around St. Louis will learn to become cyber defenders at the annual Cyber Warrior Camp hosted by Fontbonne University's department of mathematics and computer science. Now in its second year, the free camp reached full capacity soon after registration opened this spring.
"We want to encourage high school students to pursue continued learning in STEM fields and empower them to explore careers in cybersecurity and computer science," said Dr. Mary Abkemeier, chair of the mathematics and computer science department. "Cybersecurity professionals are in high demand here in St. Louis and beyond, and our camp helps introduce them to future opportunities."
Taught by Dr. Guanyu Tian, professor of math and computer science, students will take field trips to cybersecurity installations at major St. Louis companies, learn through games, competition and a scavenger hunt, and go home with new supplies, including flash drives and raspberry Pi computers.
Camp topics will range from cybersecurity principals to SPAM and phishing detection to data hiding. Guest speakers include Fontbonne alumni James Gall and Brian Gant, both successful professionals in security fields.