Associate professor Dr. Ben Moore, founder and director of Fontbonne University's Bosnia Memory Project, was recently featured in St. Louis Business Journal for a St. Louis Character article.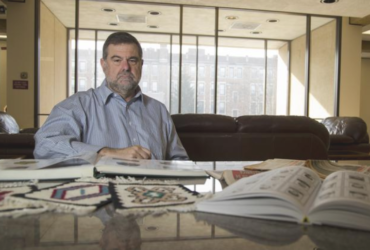 St. Louis Character is an ongoing feature that highlights dozens of the region's most unique individuals by taking an in-depth look at their careers, hobbies and volunteer work. Moore's feature explores his efforts to collect and preserve the memories of Bosnian genocide survivors—especially those living in metropolitan St. Louis—through Fontbonne's Bosnia Memory Project, an organization dedicated to establishing an enduring record of survivors and their relatives.
In the article, Moore discusses how and why he started the Bosnia Memory Project, why it is critical to conserve the histories of the Bosnian genocide, and how the stories have impacted him. He also describes the important lessons his students at Fontbonne learn from helping him interview survivors.
"They see people who have experienced some of the worst things that a human being can experience, but have remained whole and have been able to continue to have connections with other people," Moore said in his interview with St. Louis Business Journal. "They've also continued to have an investment in their own families and communities. So the students see the ability of humans to rise above the circumstances that are given to them."
The article is available online at http://bit.ly/2FFqXUN. You can learn more about the Bosnia Memory Project by visiting https://www.fontbonne.edu/academics/college-arts-sciences/english-communication-division/bosnia-memory-project/.