In December 2019, 13 Fontbonne University students traveled to Walt Disney World in Orlando, Florida, for one week to attend the College Edition of the Disney Leadership Institute, an accredited leadership development program hosted by professionals and business leaders associated with the Walt Disney Corporation.
The training-intensive experience highlights leadership strategies, teamwork, creativity, hospitality and organizational culture. Hannah Winson, a senior studying early childhood education, participated in the program her sophomore year and served as the student program coordinator her senior year.
"This experience has been the highlight of my college career," Winson said. "I've learned so many useful teamwork and communication skills as well as how to cope with stress and feeling overwhelmed."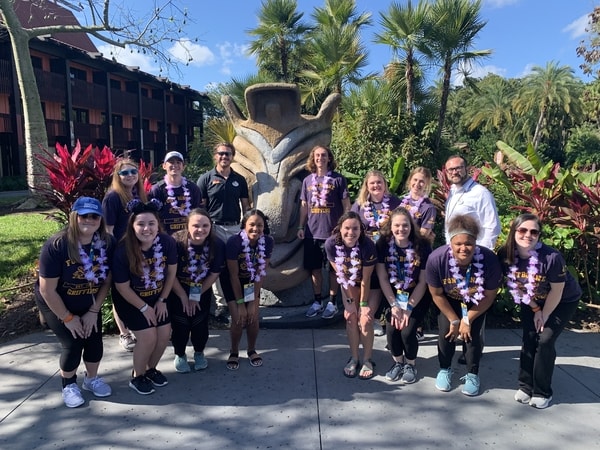 Students participating in the Fontbonne University Disney Leadership Experience take a photo after a hospitality class at the Polynesian Resort.
In addition to taking classes during their visit, the group also enjoyed all four Disney World theme parks. They attended the exclusive Mickey's Very Merry Christmas Party event in Magic Kingdom and experienced Hollywood Studio's new Star Wars: Galaxy's Edge area. At Epcot, the group learned a lesson in cultural competence by immersing themselves in the park's 11 pavilions representing countries from around the world.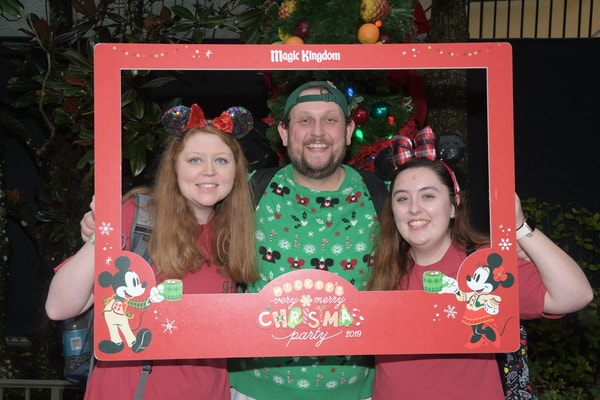 Joel Hermann, Fontbonne's Director of Orientation and Student Engagement, and seniors Hannah Winson and Jordan Sampson take a photo at Mickey's Very Merry Christmas Party in Magic Kingdom.
"I spent a lot of time in the Norway area at Epcot, which is where Frozen is set," Winson said. "All of the cast members there were from Norway, so it was really interesting talking to them about their experience coming to and working in America."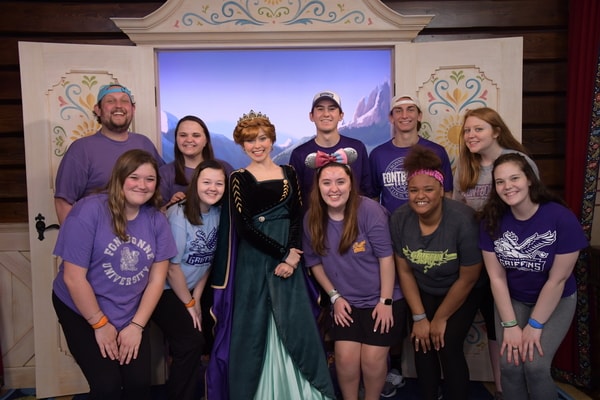 Program participants pose with Frozen cast members at Epcot.
Fontbonne's Disney Leadership Experience is comprised of three phases: On-Campus, On-Site and Post-Site. During the On-Campus phase, participating students engaged in coursework focusing on team development, defining and comprehending individual strengths, and problem solving. They also organized an on-campus car wash and Disney-themed trivia night to raise money for their trip to Florida.
"The On-Campus part of the experience is important because it helps us get to know one another," Winson said. "Everyone has a different personality, so we spend this time learning how to bring our strengths together and work as a team. For example, we had everyone bring a Disney song to one of our meetings so they could give a presentation about how that song applies to leadership and their individual leadership styles."
While the On-Site component occurs at Disney World, the Post-Site experience happens on campus when participating students return for the spring semester. The group is expected to apply program lessons to leadership opportunities at Fontbonne and beyond. Winson plans to bring the skills she learned to her spring internship at HealthWorks! Kids' Museum in St. Louis.
"I'm graduating in May, so I interpreted the program differently than the sophomores and juniors who still have another year or two of classes," Winson said. "In addition to being team players, all the Disney employees I met love their jobs. They've inspired me to have a great attitude at work and make my experience as positive and enriching as possible. They've taught me how to make the most of every day."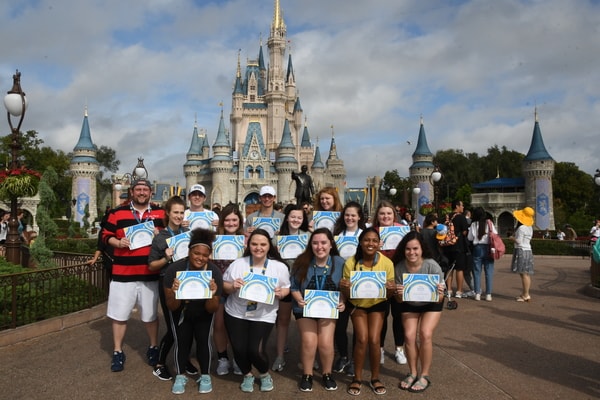 Program participants receive diplomas on their last day of coursework.
Students interested in applying for the Fontbonne University Disney Leadership Experience should look for information sessions and application information in spring 2020, but can learn more about the program at https://www.fontbonne.edu/student-life/getting-involved/leadership-programs/disney/.