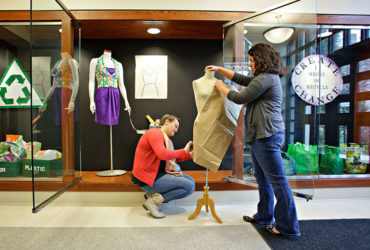 Fontbonne's fashion merchandising program launches its grads into successful careers.
Take Megan McKenzie, a 2019 graduate. She completed a merchandising internship at Stars Design Group in St. Louis in 2018. Her work with the team was so well received that she was offered a part-time extension through the spring 2019 semester, with the agreement to switch to a full-time contract upon graduation. She is now a junior merchandiser with the company.
When you hear of fashion merchandising degrees, you may think of the Fashion Institute of Technology in New York or the Fashion Institute of Design & Merchandising in Los Angeles. But St. Louis in fact has historically strong ties to fashion, and the robust fashion merchandising program at Fontbonne University is making its mark on the industry.
A Program Rooted in Ethics and Practical Skills
Fontbonne's fashion merchandising program exposes students to the ethical issues at the heart of fashion — how, by nature of wearing clothing and apparel, everyone is part of the industry. Everyone is implicated in the supply chain. Students also get a thorough education in the practical skills needed to work in fashion. They learn everything from product development through retail, including how the decision to produce a product is made, how a merchandiser turns a design into reality, trend forecasting, working with vendors, sourcing decisions and consumer research.
Dr. Angie Liljequist is an associate professor and chair of Fontbonne's fashion merchandising department who recently completed her 20th year of teaching. She believes Fontbonne is a cut above the rest in terms of educating students on the ever-changing industry. In particular, the technology available to students and the faculty's experience make the program a standout.
"We employ cutting-edge industry software in our courses that prepares students for careers in visual merchandising and product development," she says. "We also help students understand the global considerations of the apparel supply chain by using a sourcing simulator software, helping them understand the many factors involved in sourcing materials and producing abroad." Fontbonne uses software such as Gerber's Yunique Product Lifecycle Management and Sourcing Simulator and MockShop Visual Retailing.
Fontbonne typically partners with industry leaders, and students work on real-world problems and go on tours in Los Angeles, New York and other cities across the U.S. And just like in Megan McKenzie's case, it's common for students to receive job offers during their academic studies.
In the quickly evolving fashion merchandising industry, Fontbonne is working hard to create the next generation of fashion leaders.
Learn more about Fontbonne's Bachelor of Science in Fashion Merchandising.